Sign up for our daily newsletter
Want latest news, reviews, analysis, deals, and events, and offers from our commercial partners? We've got you.
There are many reasons why switching to an electric trolley could be a great option for you.
Not only will it help you get your equipment around the course, but it will also give you a much better chance of shooting a great score.
Here's six reasons why you should be using an electric trolley.
Ease of use
When you have an electric trolley, you can pack your bag with anything and everything you want and need. You can put more balls, tees, gloves and clothing to help you prepare against the elements. If you were to load up your bag like this and carry it, you'd probably get tired early on in your round. However, if you had something like the Motocaddy M7 GPS Remote, all you need is your remote control and you're off and going, hands free and stress free.
Reducing physical strain
If you've suffered with pain on the course in the past or want to make sure you're not at risk of injury, then carrying your clubs isn't the right option for you. Having an electric trolley like the S5 GPS or the M7 GPS Remote is going to be a superb option, as they eliminate the strain from carrying a bag.
Conserving energy
We have all carried a bag, had a great score going in a medal or match between friends and you're coming down the closing stretch and you start to feel a bit tight, tired and fatigued. That's not the case if you go electric. You're still going to have the extra energy to keep that score going and finish strong. With the S5 GPS and M7 GPS Remote, the built in GPS will make sure you're getting those all-important yardages on the closing holes to get you as close to the hole as possible, while still feeling fresh on every shot.
Endless Features
There are so many features that come with an electric trolley and the S5 GPS and M7 GPS Remote are packed with them. Not only do the two models have nine speeds, but they are fully equipped with GPS, giving you the ability to see distances to the front, middle and back of the green.
It also has the green view where you can interact with the screen and move the pin to get more accurate yardages and you also have all distances to hazards on the hole as well. The S5 GPS is lightweight, weighing just 10kg, making it extremely easy to manoeuvre and the M7 GPS Remote weighs 14.9kg, which makes it super solid, especially when tackling undulating terrain with its anti-tip wheel at the back.
The remote for the M7 is small and very simple to use, with four arrows and a central stop button, you're in full control of where you want to trolley to go. They also have USB charging ports to charge your remote or your phone, the 28v battery which lasts 36 holes and all terrain wheels which are easy to pop on and off.
Each trolley is simple to assemble, the S5 has a one-step folding system which is quick and easy and the M7 has a simple and compact folding system meaning it can fit easily in your car.
Pace of Play
With both models, you'll be whizzing round the course.
The GPS will give the yardage you need to the green, there's no looking for yardage markers as you have it right there on your trolley. Pick your club, step up, hit it and you're on your way. One of the great things about having an electric trolley is not only can you play faster, but you can also play longer which equals more golf, particularly with a 36-hole battery.
Shoot better scores
An electric trolley is essentially going to allow you to feel your best and play your best. You have the ease of using an electric trolley, the reduced physical strain on the body and more energy which will allow you to play more golf if you choose to.
You can play quicker thanks to incredible features like lightweight designs, built in GPS, remote controls, all these features and benefits are going to contribute to you shooting lower scores and enjoying your round more, which is what it's all about.
Find out more: motocaddy.com
About Partnership content
Some bunkered online content is funded by outside parties. The revenue from this helps to sustain our independent news gathering. You will always know if you are reading paid-for material as it will be clearly labelled as "Partnership" on the site and on social media channels.
This can take two different forms.
"Presented by"
This means the content has been paid for and produced by the named advertiser.
"In partnership with"
This means the content has been paid for and approved by the named advertiser but written and edited by our own commercial content team.
More Reads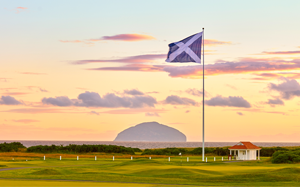 The bunkered Golf Course Guide - Scotland
Now, with bunkered, you can discover the golf courses Scotland has to offer. Trust us, you will not be disappointed.
Find Courses
Latest podcast
Rory McIlroy's resignation and making sense of the WHS