Sign up for our daily newsletter
Want latest news, reviews, analysis, deals, and events, and offers from our commercial partners? We've got you.
Earlier this month, the R&A and the USGA announced changes to the World Handicap System. For a lot of golfers, these changes brought confusion, so we reached out to an expert to find out more.  
David Kernohan is Scottish Golf's Head of VMS and Handicapping, and we asked him about the latest WHS changes revealed by the R&A and USGA that are set to impact golfers from 2024.  
Many golfers expressed concern across social media, but Kernohan assures bunkered readers that it will make things easier for those across the whole of the United Kingdom. 
World Handicap System changes
Before we get into it, make sure you're up to speed with all the upcoming adjustments to WHS, otherwise here's our full Q&A with Kernohan…
Updates to the World Handicap System™ 🌎⛳

With a continued emphasis on accuracy, consistency and equity, the latest revisions will go into effect from 1 January 2024.

Watch our video below and read more about the new updates here 👉 https://t.co/UMoQbbMSHk pic.twitter.com/fhEUhhpHbF

— The R&A (@RandA) November 8, 2023
Why are these changes to the World Handicap System being made?
First of all, it's good governance. It's important to look at any system and ensure it's fit for purpose and evolving alongside the game of golf. This is the first update on the WHS since its implementation, but I'm sure the World Handicap Authority(WHA) which is made up of the R&A and USGA will continue to look at the system and see if there's any changes that can be made to ensure the system is doing what it needs to do for the game of golf. It's important from that perspective that we're looking at the system to ensure that it's always getting better.
Can we expect more changes to come in the future?
Definitely. Just like the Rules of Golf, the WHS is governed by the R&A and the USGA. They'll be taking time every four years to review the WHS and make sure it's operating in the right way.
When a club golfer tees up in their first medal of 2024, is there anything they need to do differently?
The big change for 2024 is the inclusion of course rating minus par. In GB&I, we definitely feel this is the right thing to do, to move to a course rating minus par system. Depending on what the course rating minus par is, golfers will see a difference in their playing handicap in a competition.
Under the current rules, your course handicap is worked out by your handicap index multiplied by slope divided by 113. From April, it will be handicap index multiplied by slope divided by 113, plus course rating minus par.
• The 33 players who just won a DP World Tour card
In effect, if your course rating is lower than par, you'll get fewer strokes, if your course rating is higher than par, you'll get additional strokes. Essentially, this will bring everyone playing back to par. From April, 36 points will be playing to your handicap. Whereas right now, it's more about course rating as opposed to par.
We believe this will simplify the understanding for when a golfer plays to their handicap.
If someone in 2023 is playing a course where the rating is 68 but the par is 72 and they shoot 44 points, in 2024, that would be 40 points, due to the course rating minus par calculation.
Another aspect of the changes that has caused a lot of talk is the 'expected score' rule. Can you explain what that means?
One thing that's important to remember is expected score isn't most likely score (MLS) which is used in other jurisdictions like the USA. Expected score is actually going to be the new way we scale up an incomplete score. Right now, for example if a golfer has submitted a nine-hole score, that score gets scaled up into an 18-hole score differential. To scale up that score we currently use a nett par adjustment. You get nett par plus one for the tenth hole, and then nett par for holes 11-to-18. That all adds up to 17 points.
Expected Score is going to be a new way of doing this, but it will be more personal to the golfer. This will take into account the slope, your own handicap index, and then it will calculate an expected score for you. We believe this will be a truer reflection of that player's score when it is scaled up into their 18 hole score differential.
Just to clarify, this expected score is not up to the player, but the software, when you put that nine-hole score in, the computer will scale that score up.
A golfer just can't walk off the golf course if they have pre-registered to put in an 18-hole score. That's a really important point. If someone registers to put an 18-hole scorecard in, unless they have a valid reason as per the rules of handicapping for walking off the course, that score shouldn't count.
If a golfer walks off after 12 holes because they're six-under-par, and is hoping they will get an Expected Score for the rest of the round, that score should not count. If that player didn't have a legitimate reason to walk off the course, the club could, in theory, add a penalty score.
Just to clarify, if a player registers for a general play score, they can't say that they only want to play 14 holes, for example, and then walk off the course and let the computer do the rest?
Definitely not, that can't happen. In 2024, there is a change that allows clubs to run competitions over less than 18 holes. If the club wanted to run a competition over 14 holes, then that is totally different. But, a player can't decide before their round that they're going to register for a general play, only play 14 holes, and then walk off the course.
Unless they have a valid reason such as injury. If a player doesn't think they have enough time to play a full 18 holes, they should only register for a nine-hole score. You cannot pre-register for anything other than a nine or 18-hole score, unless the club competition is over a different number of holes.
Will this make the handicap index of a player more accurate?
Absolutely, I think this will make handicap index ratings more accurate than in the past. It's a different way of calculating that scaled up score, and we think it will be more accurate.
Another point I want to touch on is the PCC. A lot of people say this doesn't move as much as it should, but I understand there are changes coming to this system?
Essentially, the calculation has changed to make it slightly less conservative. In GB&I, we're definitely trying to push to see that calculation be a lot less conservative. We used to have the CSS, which used to move quite a lot, this is different.
We actually implemented this change for 2023, and we're already starting to see the PCC moving more. I understand what golfers are saying, that the CSS used to move more often than the PCC currently does. In fairness, I think the R&A and the USGA has to get this right for every jurisdiction that uses WHS across the globe.
GB&I will continue to look at PCC and the data around it in order to support the WHA to enable them to get it right, but even with the changes that were made last year we are already seeing it move more. We provide scoring data to the R&A and USGA every year so that they can analyse the PCC and see how it's moving. It's something that is constantly being looked at.
Fourball betterball scores are now going to be part of some player's handicap records. Can you explain how this will work?
From April, a fourball betterball score can count for your handicap index, which is quite right, as it is a valid score. But, there is a certain criteria that needs to be met for it to count. Firstly, the team score needs to be more than 42 points. Then, if a player has been on that scorecard for at least nine holes and after the calculation which will be performed by the system, if the score for the player is 36 points or better, then that will qualify to count for their handicap record.
We hear from a lot of clubs and see a lot of big numbers winning fourball betterball competitions, this is to help that issue. There's questions around the fact that people aren't getting cut for these scores, so it's about making sure that these scores are, where applicable, counting for a player's handicap record.
The more scores you have on your WHS record, the better reflection of your true playing ability. This will assist in making that more accurate.
What changes can golf clubs expect to see in this system?
There's a lot of changes coming to the handicap review process for clubs. This is a process that clubs run once a year to see how their players have performed over the year, and decide if any changes need to be made to their handicap index.
We're providing more information to handicap committees to give them more confidence to be able to make decisions on these matters.
With the course rating minus par change coming in, there's going to be changes to the course handicap lookup charts. We've sent out a newsletter to golf clubs with changes that they're going to have to consider for 2024.
Is there anything else we should know about?
This is all about making the handicap system more accurate but also easier to understand for golfers when they are submitting a score. I hear a lot of golfers say that the WHS is becoming too complicated and that there's too many things to think about.
We're making changes for the betterment of the system. Golfers might see this as more confusion, but once this in play next year, it will simplify the system and I'm sure golfers will understand why we have made these changes when they go and play.
---
More Reads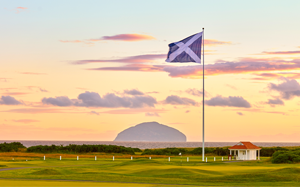 The bunkered Golf Course Guide - Scotland
Now, with bunkered, you can discover the golf courses Scotland has to offer. Trust us, you will not be disappointed.
Find Courses
Latest podcast
Rory McIlroy's resignation and making sense of the WHS