Sign up for our daily newsletter
Want latest news, reviews, analysis, deals, and events, and offers from our commercial partners? We've got you.
As sure as night follows day, Michael Block's latest missed cut on the PGA Tour was met with a predictable barrage of contempt on Elon Musk's supersonic spite machine.
The Californian club pro carded a second round 76 to finish four-over-par and DFL at the World Wide Technology Championship on Friday, his third consecutive missed cut on the tour and the second time in three events he has propped up the leaderboard.
Cue mean spirits and schadenfreude.
"Michael Block is cringey af."
"Sick of seeing this dude. His time is over!"
"Needs to go away now."
Those are the shareable tweets. Others were less kind and more graphic, including one from a faceless, nameless piece of work who articulated his hope that Block gets "prison r*ped". Proof, were it needed, that there are some genuinely unwell people walking amongst us.
The 'Block Party' is now set to travel 'Down Under' where, at the end of the month, the bold Michael will peg it up in the Australian Open. There, like last week, he'll be playing on a sponsor's invite and, already, people are up in arms.
A tweet from the tournament's official account on October 26, announcing Block's participation, has received more than 100 replies, few of them positive.
To summarise, the decision to invite him is a "joke", "embarrassing", "disappointing", "simply pathetic" and, apparently, "simply cheapens the event".
One user disturbingly noted that there are plenty of sharks in Australia and "accidents happen, you know?"
The hate for Block is hard to fathom. The guy lit up an otherwise forgettable PGA Championship this year by finishing in a tie for 15th and having a slam-dunk hole-in-one in the company of Rory McIlroy. That's to say nothing of a sublime up-and-down at the last hole to guarantee his involvement at Valhalla next month.
After that, it all got a little out of hand. The hype train mutated into a runaway locomotive, the man himself said some misguided bits and bobs and, quicker than you can say 'Cinderella Story', public opinion performed a full one-eighty. The 'everyman' was suddenly a 'nobody' who had no business playing in the Charles Schwab Challenge. Hero to zero at warp speed.
None of which is a surprise. We all know what social media is. Still, the reaction to any piece of content that carries the 47-year-old's name is disproportionately caustic, even by Golf Twitter's low bar.
Many have attempted to rationalise the spite to which Block has been subjected by suggesting that he's not particularly likeable. Whether he is or isn't is many things. A matter of opinion, for one. Something that's not exclusive to Block, for another. Above all, it's a particularly weak stick with which to beat somebody.
The complaint seems to be: "He's living his dream, but I wish he'd do it in a way that pleases me."
Behave yourself.
Lost in the apoplexy and envy is the fact that it's hardly Michael Block's fault he keeps getting invites. Heaven forbid a guy should take every opportunity that comes his way, on merit or otherwise.
Rather, the blame – if, in fact, there is any to be apportioned – must fall at the feet of those pesky sponsors who, in return for ponying up the cash required to put on tournaments, are given a handful of spots to distribute as they see fit.
A couple of points on this. One, sponsor invites are not a new phenomenon. It happens every week and has done for a very, very long time. Two, if they think Michael Block is worthy of an invite, then that's all there is to it. He who pays the piper and all that. It's exactly the same principle as applied in the past when Lexi Thompson, Steph Curry, Tony Romo, Ho Sung Choi and countless others have been parachuted into PGA Tour events.
Whether or not this process requires a degree of regulation is the only point of debate with any merit in this instance. For example, if the chief executive of, say, Sanderson Farms decides he wants to use one of his exemptions on his two-handicap nephew, then what's to stop him?
To aim the water cannons at the invitee, however, is equal parts ridiculous and unjustified.
Michael Block's invites will invariably start to dry up, such is the fickle nature of popularity and profile. A new flavour of the month will be along soon, whereupon the cycle will repeat all over again.
Until then, he might as well make the most of every opportunity that comes his way.
You would.
---
More Reads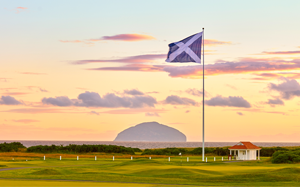 The bunkered Golf Course Guide - Scotland
Now, with bunkered, you can discover the golf courses Scotland has to offer. Trust us, you will not be disappointed.
Find Courses
Latest podcast
Rory McIlroy's resignation and making sense of the WHS