Sign up for our daily newsletter
Want latest news, reviews, analysis, deals, and events, and offers from our commercial partners? We've got you.
It should surprise nobody that lowering your scores is harder than it seems.
All golfers are very aware of this fact and that's what makes the game so exciting and fun to play. Golf is difficult, and it's amazing what knocking a few shots off your score can do to your confidence.
If you're a keen golfer, you'll desperately want to lower your scores, beat your mates and, to be honest, hopefully you'll have the desire to be the best player you can possibly be.
Most players want to try and improve year on year but you'll need to start shooting lower numbers in order to do that.
To improve, there are various parts of your game you need to work on. One is short game while the other is your iron play, which is what we're going to focus on here. If you hit more greens, you're scrambling less and putting more.
Be in full control
You'll never see a tour pro swinging an iron 100%. They constantly swing at 80%, swinging within themselves.
They have full and total control and that's why their consistency is through the roof compared to ordinary golfers. Here you can see I have not moved that much onto my right side. I've rotated round my core and the club is nice and controlled at the top. You don't need to go all the way back, either.
Maintain your spine angle
If you can maintain the same spine angle coming into the ball as you have at address, you're going to deliver the club right on top of the ball, giving a nice crisp strike and a wee bit more backspin. You'll take a nice divot, too.
Keeping your spine angle keeps you in control of the shot. That's the secret to better golf. If you lose your spine angle, chances are you'll catch it thin or fat and lose distance.
Your body should work as one unit
If you spin out of the shot, there are so many bad results, most likely a high block. Your hands will work too much because your legs have become disjointed from your upper half. When that happens, you're in trouble. You'll lose balance and distance.
If you're doing this, you're inconsistent. If you don't do this but, instead, work your body more as a unit, you'll play better and score better.
When trying to think of speed through the ball, a lot of people will try and turn their left side quicker to target – but you need to match that with your upper half.
–
Andy Carlton is the Head PGA professional at Paisley Golf Club. For lessons, call Andy on 0141 884 4114. Follow him on Twitter @PaisleyPro.
More Reads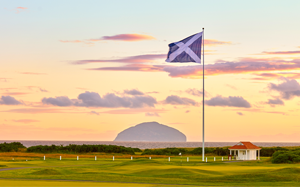 The bunkered Golf Course Guide - Scotland
Now, with bunkered, you can discover the golf courses Scotland has to offer. Trust us, you will not be disappointed.
Find Courses
Latest podcast
Rory McIlroy's resignation and making sense of the WHS