Sign up for our daily newsletter
Want latest news, reviews, analysis, deals, and events, and offers from our commercial partners? We've got you.
Famous brand unveils its lightest and most adjustable driver ever
Use the Force: The Callaway FT Optiforce is the brand's lightest and most adjustable driver ever
Callaway Golf has revealed details of its latest driver – although avid followers of bunkered might already be familiar with the name.
The FT Optiforce is the famous brand's most adjustable and most lightweight driver ever and has already proven popular amongst Callaway tour staff, including Trevor Immelman, Tommy 'Two Gloves' Gainey and Andres Gonzalez, who have been putting it through its paces over the past few weeks.
And if you're wondering why you recognise the name, that's because we were the first to reveal early details of the club on our Twitter account (@BunkeredOnline) back in April, see right.
We had heard rumours that Phil Mickelson was planning on putting the club into play at the Masters, although he ultimately went with the brilliantly named Phrankenwood. We also revealed the FT Optiforce named had been trademarked by Callaway back in January.
Borne from an early design for another driver called the Falcon, the FT Optiforce is available in two head size options: 440cc and 460cc. Each features eight different hosel-adjustability settings and is designed with one main outcome in mind – more distance.
Callaway's senior vice president of research and design, explained: "At first we put 40 players, across a broad ability range, into Callaway X Hot drivers and got them to compare distances with the new FT Optiforce driver. The majority of people added ball speed which was hugely encouraging.
"We then asked the same people to use their own choice of driver, the ones they were most comfortable with, and to again benchmark the performance against the FT Optiforce, whilst using the new club's additional fitting elements in the hosel to further enhance and optimise performance.
"In the standard test against X Hot, nearly everybody gained ball speed, but not everyone converted it to extra distance because they were not allowed to fit themselves.
"Interestingly, when we ran the test against their own driver and allowed them to use the full adjustability on offer through the hosel settings in FT Optiforce, the results were very compelling.
"It's hard to put exact numbers on it across the board but everyone gained ball speed and the majority converted it to distance gains from five yards upwards, and in some cases it was significantly more because golfers responded more positively to the lighter configuration of FT Optiforce."
Hocknell added the club has also been designed to be used by all golfers.
"Our test data suggests this is a driver for all golfers," he added. "Sometimes there can be a perception that a lightweight driver is for senior golfers but we found that everyone either benefits from, or wants, speed.
"You've either never had head speed or you would like some more; you've had head speed at one point and now you've got less and you want it back; or you've got plenty of head speed and you still want more. FT Optiforce delivers on all counts so it pretty much covers everyone.
"It's not a driver that is categorised by age or ability. We found that the majority of people were able to add head speed and convert that speed into ball speed and increased distance, particularly extra carry, which is something most golfers struggle with.
"With the 43g shaft option, I would say the bulk of people who swing around the 100mph range should see the biggest benefit."
Stacked up against the X Hot driver, the FT Optiforce compares more than favourably.
"FT Optiforce is slightly more forgiving than X Hot, and offers a slightly higher launch," added Hocknell. "It is certainly easier to get the ball airborne quicker with the FT Optiforce – the X Hot is pretty good at this too!
"The FT Optiforce has a Forged Composite crown (X Hot has a full titanium head) making it easier to save weight in the overall head and allowing the centre of gravity to be positioned more effectively to help with a high launch, low spin impact dynamic. Loft adjustability is also a key element to Optiforce allowing golfers to adjust trajectory to maximise carry and roll."
In addition to the driver, Callaway has also introduced a range of exciting, high-performing. FT Optiforce fairway woods.
"By using ground-breaking technologies in the design of the FT Optiforce fairway woods we have been able to add more ball speed, whilst managing backspin effectively, to give golfers more distance," said Hocknell. "FT Optiforce fairway woods have what I would call a perfect recipe in that we have also been able to move the centre of gravity to make them easier launching too."
More Reads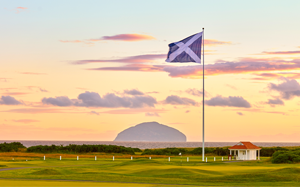 The bunkered Golf Course Guide - Scotland
Now, with bunkered, you can discover the golf courses Scotland has to offer. Trust us, you will not be disappointed.
Find Courses
Latest podcast
Rory McIlroy's resignation and making sense of the WHS