Sign up for our daily newsletter
Want latest news, reviews, analysis, deals, and events, and offers from our commercial partners? We've got you.
The emergence of artificial intelligence, or A.I. for short, has already transformed the industries which shape our lives.
Sophisticated algorithms simulating human intelligence are now recommending our latest spending sprees and Netflix binges, while A.I. powered chatbots mimicking human interaction are determining decision-making in countless professions.
But dangers lie within this unregulated beast. Elon Musk, for example, fears it could be utilised by "advanced" countries across the world to develop weapons for the battlefield.
The paradox is such that Musk, so often at the heart of tech innovation, joined hundreds of business moguls and public health experts calling for a pause in its growth.
•  How A.I. can revolutionise golf course design
Whether A.I. should be vilified or celebrated is up for debate, but its proven power to infiltrate our lives begs questions over its inevitable impact in the world of golf.
Could we even reach a point where A.I. can generate its own golf course? "It's a very scary thought," Kyle Phillips told a recent episode of The bunkered Podcast.
Phillips, the acclaimed architect behind Kingsbarns Golf Links and the renovation of Valderrama in Spain, knows the possibilities are endless.
"It would be very interesting," he said. "Could there be a day when you could say 'I want one of those' and it would just spit that right out for you?"
An equally pertinent point concerns the public's level of desire to play on a course that has been completely artificially assembled.
Take Dundonald Links, another gem designed by Phillips, as a prime example. The magic of this masterpiece on the Ayrshire coast is in its nuance and imagination, not just its geometry and stylistic principles.
"I tried to utilise the strongest and most interesting of the natural features and then create grander, more dramatic landforms and features over the remainder of the site," Phillips noted.
Abandoning the designer's touch would surely risk rendering a course soulless and void of an identity.
But to dismiss that prospect entirely would surely be also understating the power of the technology which looks set to change our lives in ways we may not even be aware of yet.
And, in reality, golf has long been embracing this polarising phenomenon.
Callaway Golf paved the way for the leading equipment manufacturers by capitalising on the advent of A.I. with its club design.
The Callaway Flash Face driver, released in 2019, was designed entirely by an A.I.-powered supercomputer with the capability of cycling through 15,000 clubface iterations in an instant.
It was no surprise then, that the likes of Wilson and Cleveland Golf soon incorporated A.I. themselves to develop products, with lead times almost completely wiped out.
The benefits of A.I. are not just its speed, but also its ingenuity. Want to fix your slice? A.I .has already manufactured a solution for that, too.
The technology has allowed coaching platforms to offer immediate feedback on golf swings through in-depth video analysis and upgraded instructional techniques.
Coaching platforms are now harnessing A.I., combining comprehensive 3D motion data and the intuition of world-class instructors to improve the study of the golf swing.
The driving range experience has also changed for some. Tech-minded golfers can simply bring their smartphones along to record their swings and, with the help of A.I.-powered apps, receive instant feedback, rather than fork out for regular, in-person lessons.
That raises the question of whether PGA pros will be among society's long list of job casualties in the long-term. Demand for one-to-one lessons will surely decline if made futile by ever-improving technology.
Those fortunate to have access to a golf simulator, meanwhile, have long been able to play computer-generated versions of world-class courses, with A.I. keeping data rather like a virtual caddie to advise on club selection in real time.
The benefits are clear, but there are some things A.I. cannot replicate: the natural beauty of the links layout, the reassurance of a peerless instructor and the camaraderie on the 18th green – just to name a few.
Writing about his own designs, Dr Alister MacKenzie once said: "The course should have beautiful surroundings, and all the artificial features should have so natural an appearance that a stranger is unable to distinguish them from nature itself."
For some, the illusion of artificial intelligence already makes it indistinguishable from reality.
But while golf will continue to leverage this controversial new technology to enhance enjoyment and accessibility, nothing can alter the core principles that make it so great.
5 ways A.I. is already changing golf…
Coaching
The advent of A.I. has changed the way we think about teaching. Suddenly, there is tangible data-led evidence to explain our swing faults, with the technology allowing instructors to scrutinise your game in more depth than ever before. Your personal coach is in the palm of your hand too. Game-changing apps now analyse athletic motions in 3D and offer complete swing feedback quicker than you can turn the pages of Ben Hogan's Five Lessons.
Equipment design
Equipment manufacturers have long been exploring the benefits of A.I. to get the edge on their rivals. Callaway's $8bn supercomputer, introduced in 2019 for Epic Flash promising extra ball speed and more distance, helped revolutionise clubface design. Leading brands are now discovering what is possible with systems that can test thousands of iterations in no time to land on the best product.
Virtual caddie
Forget the seasoned looper; your new favourite caddie is now wearable. Or so the advertisement goes. Data-powered watches and smartphone apps driven by A.I. technology are now being produced by tech companies to track your shots and recommend club choices in real time whilst on the course.
Simulation
A.I incorporated features have elevated indoor simulators from swing practice devices to true golf clinics, collecting data on each shot and offering genuinely mind-blowing swing analysis.
Tournament coverage
Those tuning in to coverage on the standard-setting app for this year's Masters found Augusta National had a new way to push the boundaries for innovation. The A.I. commentary feature made with IBM utilised a large language model to understand golf terminology and swings, with a robot broadcaster reacting to shots in real time. It was… a bit different.
---
More Reads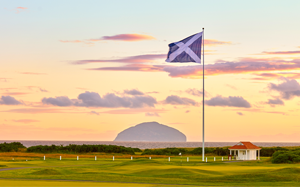 The bunkered Golf Course Guide - Scotland
Now, with bunkered, you can discover the golf courses Scotland has to offer. Trust us, you will not be disappointed.
Find Courses
Latest podcast
Rory McIlroy's resignation and making sense of the WHS