Sign up for our daily newsletter
Want latest news, reviews, analysis, deals, and events, and offers from our commercial partners? We've got you.
The professional realm of golf is dominated by three-letter overlords: PGA, LIV, PIP, PIF, TGL.
At the end of another discombobulating week – perhaps the most discombobulating week – it's another such acronym that best represents the overriding sentiment.
WTF?
After 12 months of rancour and schism, the PGA Tour, DP World Tour and the Public Investment Fund of Saudi Arabia have had a sudden and simultaneous epiphany.
Harmony makes better business sense than division.
Well, duh!
What revelation will they stumble into next? The damp properties of water?
Maybe if they hadn't taken their sweet time to arrive at the only logical conclusion, the sport from which they harvest their billions wouldn't have nosedived into the sewage pipe of public opinion.
And get this, sports fans. In return for facilitating all this needless turmoil, the key men involved now plan to reward themselves with better jobs and more power. Go team!
Sworn enemies have become BFFs quicker than you can say bygones. Why? Because it's convenient and will cost less.
Wait, you didn't honestly think that Jay Monahan and Yasir Al-Rumayyan want to be each other's wingman, did you? This isn't Top Gun, kids. This is a crapshoot of unapologetically epic proportions.
Monahan's unexpected appetite for a deal has already been scrutinised with forensic vigour. Little wonder. After spending most of the past year cataloguing all that's bad about LIV and Saudi Arabia, the Pied Piper of Ponte Vedra is now yelling 'Psych!' and making out that the joke's on us.
So, in case you really are that stupid, here's a quick highlights reel.
In June 2022, he said:
"On the PGA Tour, our members compete for the opportunity to add their names to history books, and, yes, significant financial benefits, without having to wrestle with any sort of moral ambiguity… That's the beauty of the PGA Tour."
From the same press conference:
"We will ultimately come out of the current challenge stronger because of our loyalty and support of our players and fans, the best in the world, as well as our planned future growth and with our values as our North Star."
In September 2022:
"I don't see [us working with LIV] happening, when you look at where we are, and you think about words and actions. We're currently in a lawsuit, so coming together and having conversations, to me, that card is off the table, and has been for a long period of time."
All of which is is to say nothing of his frequent and disingenuous references to the 'Saudi Golf League'; the false equivalence he drew between LIV and the 9/11 terror attacks (a comment so crass, it's hard to believe he actually said it); and, of course, the extraordinary disregard he showed for half of the tour's membership with the creation of a new two-tier schedule.
Rory McIlroy shares his thoughts on Tuesday's announcement.

Watch the full presser: https://t.co/LoHqYAuBmi pic.twitter.com/qNI6StFdrz

— PGA TOUR (@PGATOUR) June 7, 2023
But hey, don't worry about that. Forget it. Forget it all. Water under the bridge.
Team golf? Love it. Saudi Arabia? I'll send you a postcard. Integrity? A nine-letter word for schmucks and suckers. Niccolo Machiavelli is alive and well, boys and girls. He loves a designer suit and flies by private jet.
On the other side of this tragicomic melodrama is Phil Mickelson, living proof that if you bet on '54' often enough, you'll eventually hit the jackpot.
Replying to a Twitter user earlier this week – and prior to The Announcement™ – the part-time coffee entrepreneur claimed to be "almost a billionaire". A small price to pay for one's reputation.
Philip Alfred has demonstrated many things over the last 18 months: spectacularly good judgment, spectacularly bad judgment and pretty much everything in between. Most of all, he has proven it's possible to get it wrong in the act of getting it right.
Why couldn't he have jumped ship with the quiet dignity of Louis Oosthuizen, Marc Leishman or Martin Kaymer? Just ask him.
Questions abound. Is spending more time with the family still a huge priority? What does this mean for the RangeGoats? Will Ian Poulter get a belated birthday shoutout from the Ryder Cup Twitter admin? Is the OWGR still FUBAR?
So much to ponder, most of it shenanigans and superficial, little of it in the best interests of the game, despite what these agents of chaos would have you believe.
Shortly after slurping the last of the Kool-Aid, Monahan proved he was a good company man by predicting the shotgun union will "grow and expand this great game". What nonsense. It will grow and expand the bank accounts of the best 0.1% who play it, not to mention the say-anything charlatans who facilitate their stage.
But the game itself? Get back to me in a couple of years when the winner of the Wyndham is going home with a nine-figure cheque and a townhouse on Mars. Tell me then how you, dear reader, have benefited.
At times this week, I've found myself questioning if I still like golf. You've maybe done likewise. If so, I hope you'll reach the same conclusion I have.
Golf is not the problem. It's a great game – maybe the greatest – that has been manipulated for dollah bills by bankers and businessmen.
That part sucks. The act of getting a ball in a hole in as few strokes as possible merely exasperates.
And so we'll continue to play, to hunt flags, twirl clubs and to shank, duff, top, thin, sclaff, slice, hook and whiff.
Because that's the real game, and you can't put a price on it.
---
More Reads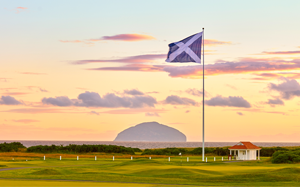 The bunkered Golf Course Guide - Scotland
Now, with bunkered, you can discover the golf courses Scotland has to offer. Trust us, you will not be disappointed.
Find Courses
Latest podcast
Rory McIlroy's resignation and making sense of the WHS