Sign up for our daily newsletter
Want latest news, reviews, analysis, deals, and events, and offers from our commercial partners? We've got you.
Two golf club members say they're 'bonded for life' after making holes-in-one on the exact same hole in a scratch matchplay competition.
Mark Mcleod, 28, and Hugh Kinniburgh, 63, were facing off against each other in the Lanbroker Trophy at Lanark Golf Club on Tuesday night when they did something that has odds, according the National Hole In One Registry, of 17 million-to-one.
The pair reached the 149-yard par-3 tenth, 'Tintock Tap', with one-handicapper Mark 2UP and one-under-par for his round over four-handicapper Hugh.
"It was a very competitive match and I knew if I could win the tenth and go 3UP, I'd have the momentum to go on and win," Mark told bunkered.co.uk.
"It was downwind, the pin was middle left and I hit a smooth wedge. It was the perfect shot, it took a bounce, then disappeared. The green was covered in shadows as it's surrounded by trees and Hugh said, 'Good shot Mark', so I knew it was close and had put the pressure on."
"Hughie then stepped up before changing his club from a 7- to 6-iron and struck his shot right on it. I was already walking ahead but shouted back, 'Good golf shot buddy'. I saw it take a couple of bounces and then, again, it disappeared. There's a fall off at the back of the green so I thought it was too big.
"As we got closer to the green, we could see there were no balls on it. There's a bit of rough behind the green so I thought they must've gone in there. Hughie then goes, 'I'm away to check the hole', as you do.
"He then put his hands out and says, 'Congratulations buddy'. I said, 'Who's in the hole?' and he replied, 'We both are'. I cannot repeat what was said afterwards but we were going mental – absolutely mental."
"I couldn't believe it," added Hugh. "The first ball I saw in the hole was Mark's and I cranked my head a bit further and mine was sitting behind it. That's my fifth hole-in-one but nothing will ever compare to this one – and I've had one on the 15th at Turnberry!"
The pair paused for a brief moment to take a selfie, as you do, to celebrate the occasion but, with their heads all over the place, they both three-putted the 11th hole for bogeys. Mark went onto win the match 3&2 and, although the duo didn't really know each other before the match, they know they'll forever be tied by this special occasion.
"We'd never played golf together before and we didn't really know each other either," admitted Mark. "We'd say 'Hello' in passing but had never really had a conversation. This has bonded us for life now. It's just surreal. So, so surreal.
But Hugh, 35 years Mark's senior, wanted to add one final thing. "He's an excellent young player but remember, he's a young buck and I'm an old retired director so hopefully this will give my peers a lot of hope when they come up against these young lads."
More Reads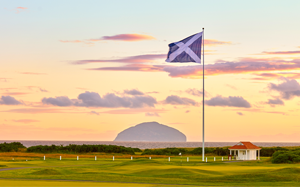 The bunkered Golf Course Guide - Scotland
Now, with bunkered, you can discover the golf courses Scotland has to offer. Trust us, you will not be disappointed.
Find Courses
Latest podcast
Rory McIlroy's resignation and making sense of the WHS