Sign up for our daily newsletter
Want latest news, reviews, analysis, deals, and events, and offers from our commercial partners? We've got you.

Keep things simple. That's probably the best advice you'll hear if you're struggling with your game.
When I'm teaching, I don't like to flood the mind of the golfer in front of me. If you've got too much in your head, it's sometimes hard to focus and to remember what you've been told to work on.
I've picked four fairly common bad shots and outlined a few simple changes that will go a long way to curing some big problems in a short time. Remember, there's always a solution to a bad shot – you just have to work hard to improve and move forward.
1. The slice
It's the dreaded shot that demoralises you, loses balls and increases your handicap… but a cure is easier than you think.
The majority of slices result from coming 'over the top' on the downswing. This is when you swing too much on the inside.
Through the impact area, slicers also create a 'chicken wing' look with their left arm, where the left arm bends through impact instead of staying straight. This causes the club to slow down and cut across the ball. Focus on keeping the left arm straight and releasing the clubhead with your right arm.
2. Hitting it thin
To get a better strike and reduce thinned shots with irons, I like to focus on one primary swing thought.
My spine angle becomes my sole swing thought in my swing. If you can maintain your spine angle through impact as it was at set-up, you increase your chances of descending on top of the ball and compressing the shot.
Most people try to hit their irons longer and, when this happens, the legs and spine both straighten up, making it harder to compress the ball.
Justin Rose keeps his same spine set from set-up through impact, hence he's one of the best ball strikers on tour.
3. Catching it fat
Catching your chip/pitch shots fat is a common problem. Here's a simple tip to get you hitting crisper, controlled shots.
Whether I am faced with a bare lie or the perfect lie, I still commit to the same swing principles in the short game in order for better strike and control.
My main swing thought is to keep my hands in front of my body throughout my swing. If you allow your hands to move inside on the backswing, the right hand can become over-active through impact and cause you to hit it fat.
By keeping your hands in front of your body, it becomes easier for the club to come down on top of the ball, cutting out the number of inconsistent strikes.
4. Loss of power
To hit the ball as far and straight as Rory McIlroy, you need to start with sound fundamentals – and that means a much more solid base
Increase the width of your stance slightly and position 60% of your weight on your right side. Ball position, as always, should be aligned just inside your left heel.
When I'm looking for extra yardage from the tee, my only swing thought is to turn my left shoulder on top of my right knee. This increases your clubhead speed through the ball, a 'must' for extra distance.
More Reads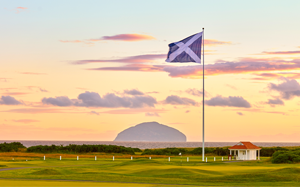 The bunkered Golf Course Guide - Scotland
Now, with bunkered, you can discover the golf courses Scotland has to offer. Trust us, you will not be disappointed.
Find Courses
Latest podcast
Rory McIlroy's resignation and making sense of the WHS