Sign up for our daily newsletter
Want latest news, reviews, analysis, deals, and events, and offers from our commercial partners? We've got you.
Golf club maintenance is on many people's mind as the season gets underway. The Masters is around the corner and many of you will be pulling the sticks from the garage for the first time in months after a winter layoff.
But if you want to get the best out of your game, you'll need to make sure your clubs are in the best shape possible.
So what should you be looking at?
We've teamed up with second-hand equipment retailer golfclubs4cash who run equipment MOTs at their store in Loanhead, Edinburgh. Here, we tell you everything you need to know about getting your clubs in shape for the season.
Get a grip on your game
First up, of course, are your grips. Professionals recommend that you change your grips once a year. The sweat on your hands, changes in temperature and just general use all contribute to their wear and tear. Over time they become harder and don't have that tackiness you need to get a firm hold on the club. You might also want to check that your grips are the right size for you. If you've got large hands then you can get rolls of tape underneath them to thicken them up and make them more suitable to you.
At golfclubs4cash you can get a free in-store fitting service when you buy any of their 14 Grips package deals. There's a budget deal at £79 and a standard £109 package. You can also get a premium £169 deal that includes Golf Pride grips and Super Stroke for your putter. You can opt for different colours and fitting should only take one hour.
Remember your lofts and lies
A lot of golfers may overlook the fact that the lofts and lies of your clubs can change over time. That can make a difference to both your strike and distance. It comes from the club being repeatedly pounded into the ground. Because of this, professionals get their lofts and lies checked regularly while on tour.
Marc McAdam, Head of Repairs and Restoration at GolfClubs4Cash, says: "Lofts and lies can change, particularly if you use a range mat and even more so if you're using forged clubs. You might find that if you practise with a 7-iron it will become a little more upright over time. It might be the difference between hitting the left of the green or putting it in the left bunker."
Don't be daft about shafts
You need to be sure you've got the right shaft for your skill and swing speed. Shafts come in different weights, lengths and flexes. Having the wrong one could add an unwanted hook or slice to your game. You need a shaft that fits your posture and how fast you can swing the club. So consult the experts and make sure you've got the right one for you. It may even be that a shaft that was perfect for you once is no longer suitable.
Marc adds: "It might be that a customer comes in and says, 'I've been using a stiff shaft for years, but I'm getting a bit older now and I'd like to change it to a regular.' That will give them a little bit more help."
There is a huge range of second-hand shafts available at golfclubs4cash with prices starting at just £35.99. They come in all weight and flexes and include every leading brand and type such as Ping Tour, HZRDUS, Tensei, Aldila, Fujikura, Project X and Elevate. They also do bundle deals on 10 used iron shafts for as little as £39.99.
Get into your grooves
You may swing it like Rory, but if your grooves get out of shape you'll never control the ball. Some people use sharpeners on their grooves but that can risk making them illegal. The best way to maintain your grooves is just to keep them as clean as possible. Wipe all the dirt off your club after every shot and wash them regularly. When cleaning your irons soak them in warm, soapy water then use a brush to remove any stubborn dirt. Make sure you dry them off with a towel so they don't rust.
The store with all the second-hand golf equipment you need
GolfClubs4Cash is Europe's largest retailer of second-hand golf equipment. They ship to countries all across the world and offer free next-day delivery in the UK. Customers can choose from a range of more than 25,000 clubs with every leading brand available.
They are experts in golf club restoration and also run golf club MOTs. They will help you to get the absolute maximum out of your clubs.
Marc adds: "We get your clubs ready for the season. We'll check your lofts and lies, clean your clubs, regrip them, re-swing weight them, extend them, cut them down, clean up grooves, whatever you need.
"Golf's hard enough that you will want to remove all the little things that you can control. There's so much you can do to your clubs that will give you every advantage possible."
If you want to get the most out of your game, visit GolfClubs4Cash.
More Reads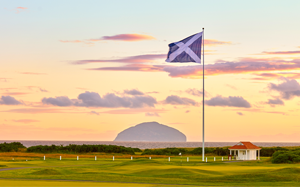 The bunkered Golf Course Guide - Scotland
Now, with bunkered, you can discover the golf courses Scotland has to offer. Trust us, you will not be disappointed.
Find Courses
Latest podcast
Rory McIlroy's resignation and making sense of the WHS