Sign up for our daily newsletter
Want latest news, reviews, analysis, deals, and events, and offers from our commercial partners? We've got you.
If The Buggles were right, and video really did kill the radio star, then all the signs are that the video star will suffer a similarly grisly fate at the hands of the Internet – and soon.
Live online streaming – powered by dot.com behemoths such as Netflix, Amazon, Yahoo, Facebook and Twitter – is taking over, leaving traditional broadcast outlets reeling.
The viewing figures for last week's Masters are the latest example of the accelerating digital crossover. In the US, where such figures are quickly and readily available, CBS saw its audience for the final round of the opening major of the season fall to a 13-year low.
Fair dos, some might say. The American public presumably has little interest in watching two Europeans – even those as high-profile as Justin Rose and Sergio Garcia – duelling it out. And with an average 'shots shown' ratio of 1.4 per minute, it was hardly filled with 'must see' coverage. Had there been more actual golf to watch and if Jordan Spieth and Rickie Fowler maintained their challenges, more people would surely have tuned in. Right?
Perhaps not.
Traditional 'viewership' numbers don't account for the number of people who now watch online or on 'Catch Up' services. They would have you believe that there are fewer people watching. The truth is that they're just watching in different ways and places. ESPN, for example, attracted a record 174,000 viewers to watch the first round of the Masters through its app. Over 12 million minutes of coverage were viewed through the app that particular day.
'Millenials', i.e. the 'internet generation', are demanding content that better suits the environment they have grown up in (all laptops, iPhones and iPads) and which is keenly tailored towards their characteristically short attention spans.
In other words, they just want the 'best bits', consumable through social media, rather than all of the action, live, as it happens, on a big screen TV.
So, what does this mean for golf at the top level? Potentially, more money for the tours and their players. The more companies bidding for rights, the higher you can expect the price to be driven up. It's the first principle of auctioneering: the extent of the profit is relative to the volume of the demand.
Consequently, traditional broadcasters could find themselves in direct competition with new, web-based platforms. Alternatively, they might form partnerships, like Sky Sports has successfully done with Facebook, in order to earn a slice of the digital pie. 'If you can't beat them' and all that.
For the armchair fan, it's hard to predict which way things will go. Over the last decade, live sport on terrestrial television has been almost completely eviscerated by subscription broadcasters and their massive cheques. The internet has, in recent years, provided an alternative means to view the 'parts that matter', either through social media or on other streaming sites. However, it remains to be seen whether it, too, will be monetised to recoup the considerable cost of broadcast rights. At almost $20bn, media rights are expected to become the North American sports industry's single largest revenue stream within 12 months.
As for the $50m deal Amazon has agreed with the NFL to broadcast ten American football matches this season, it's hard to imagine how they will see a significant return on their investment without passing on some of the cost, in some way, shape or form, to the viewer.
And so to those bemoaning the almost complete absence of live golf on terrestrial television these days, the message is pretty clear: either stump up for Sky, or go online. Everyone and everything else is.
—
For every Godfather: Part II there's a Sharknado 3. It remains to be seen which of those two silver screen sequels #SB2K17 will emulate but I'll say this: it has to be a seriously good joke to be as funny second time around. See also: Anchorman 2, Zoolander 2, Ted 2 and *shudder* Caddyshack 2.

—
---
More Reads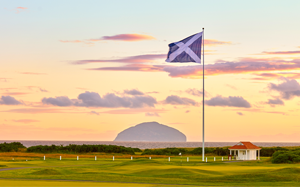 The bunkered Golf Course Guide - Scotland
Now, with bunkered, you can discover the golf courses Scotland has to offer. Trust us, you will not be disappointed.
Find Courses
Latest podcast
Rory McIlroy's resignation and making sense of the WHS