Sign up for our daily newsletter
Want latest news, reviews, analysis, deals, and events, and offers from our commercial partners? We've got you.
All golfers want the same thing – the best possible equipment and gear to support their game. Everyone wants the best clubs, best golf balls, and even the best gloves, but when was the last time you thought about your golf towel?
Ever tried to control a 'mud ball'? Ever hit a shot with wet grips or sweaty hands? While easy to forget, your golf towel may have more impact on your score than any other piece of equipment in your bag.
There are several reasons why the right golf towel can lower your score. First, you need to keep your golf ball clean. Mud, dirt, and sand can affect how your golf ball flies and curves. The moisture on your ball from the morning dew can also cost you distance. Nobody wants that.
Second, your clubs and especially your grooves need to be clean to keep performance high. Do you want to spin the ball like the tour pros you watch on TV? If so, you need to consistently leverage your golf towel throughout your round.
There are six things you need to consider when buying the best golf towel. You can determine the order of importance based on how you play the game but keep these items in mind as you shop for your next golf towel.
The right material
Do you currently use a golf towel? What material is it? Most golfers can't answer these questions. Yes, you can go "old school", simply grab a cotton towel from the kitchen, but why ignore technical advancement in the golf towel industry?
Golf manufacturers have started to use new fabrics when they create golf towels. Don't settle for your grandfather's golf towel – look for one made with microfibers. They are designed to clean your golf balls and clubs more efficiently and more effectively.
The right size
The size of your golf towel is a personal choice, but give it some thought. You can find them as small as a "washcloth" and as big as a "beach towel", but we recommend something in between. You want enough surface area to last at least 54 holes without having to wash, but you don't want to add bulk and weight to your golf bag.
Find the size that fits nicely with your bag and doesn't touch the ground when you set your bag down to hit your shots. Make sure it has an effective way to attach to your bag or clubs. No one likes to walk back 200 yards to pick up the golf towel they dropped.
Water absorption
It may sound funny, but you want a thirsty towel. One that loves to soak up moisture and quickly dries. Regardless if you get stuck out in a rain shower or if there is a heavy morning dew your golf towel should be able to absorb water and keep cleaning.
The other thing to keep in mind is that accidents happen on the course. If you happen to spill a cold beverage don't you want a golf towel that will help clean-up? No golfer wants to walk into the 19th hole with wet trousers.
Easy cleaning
The entire point of a golf towel is to get it dirty. You want your golf towel to be dirty so your golf balls, golf clubs, and clothes stay clean, but that doesn't mean you want it to stay nasty. Make sure your next golf towel is both easy to wash and won't stain.
Don't make the wrong impression on the first tee with a gross, stained golf towel hanging from your bag. It's important to consider both material and color. This is where the old white, cotton golf towel struggles to perform with the newly designed options.
The right look
Golf towels don't have to be boring and plain. They don't have to be only one color. The best golf towel is both functional and fashionable. Search for a golf towel that tells your playing partners something about your personality. Sunday Golf has a collection of golf towels with multiple options, ranging from the El Clasico golf towel, to the Miami Vice towel.
Get customised
You don't have to stop with golf towel design, you can kick it up a notch with customization. You can add your name, your favorite logo, or simply a monogram. Go crazy – be creative.
If you want, you can even buy a golf towel that is your favorite picture. How about a golf towel with a picture of your kids or that last golf trip to Pebble? Have you made a hole-in-one? A golf towel with that picture on it would be pretty sweet. Not to mention, everyone you play with will ask about it and you will get to tell your "hole-in-one" story.
The perfect golf towel is an inexpensive piece of golf gear that can help you enjoy the game more. The best golf towel for you will include great function, a little fashion, and share a bit about your golf game. Play well – keep your golf balls clean and flying straight.
Think you need to up your game with a new golf towel? Sunday Golf has a wide range of golf towels that are available here.
More Reads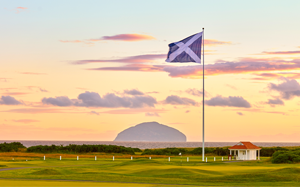 The bunkered Golf Course Guide - Scotland
Now, with bunkered, you can discover the golf courses Scotland has to offer. Trust us, you will not be disappointed.
Find Courses
Latest podcast
Rory McIlroy's resignation and making sense of the WHS