Sign up for our daily newsletter
Want latest news, reviews, analysis, deals, and events, and offers from our commercial partners? We've got you.
Walking onto the first tee on Friday, the Europeans were met by a wall of red-clad Americans. The next day it was white and finally, on the Sunday, blue. It was clearly a coordinated effort – tournament director Chris Garrett hinted as much on Saturday night – and it made for an awesome, intimidating spectacle. Is it too much to hope that we could get the fans to turn out in blue and yellow across all three days at Gleneagles and give the United States a taste of their own excellent medicine.
As incredible an amphitheatre of noise and colour as it was, the first tee was also a riot. There were entirely too many hangers-on loitering around the verges directly below stands and, crucially, from a purely commercial point of view, in front of the Ping, Du Pont and Rolex advertising hoardings. If I worked for any of those three brands, I'd be on the phone to the commercial chief at the Solheim Cup demanding either a refund or an explanation for why my most valuable displays were blocked out by bystanders who didn't need to be there (see more on that in point three). The whole thing just looked a bit messy. Which brings me to my next point…
3. Restrict the number inside the ropes
Sorry to say that it appears to a characteristic of matchplay tournaments that 'inside the ropes' access is granted to all and sundry. There's just no need. The Masters demonstrates every year that golf tournaments can – and do – happen with a bare minimum of people inside the ropes. It was one of the few blemishes on the report card for the 2014 Ryder Cup and, to their credit, the organisers are well aware of the issue. From what I gather, they're endeavouring to restrict access. To what extent they'll be successful, remains to be seen.
Little-known fact about me: I love country music. So, when I heard
that Rascal Flatts had been booked to play on the Saturday night on the
staged used for the opening and closing ceremonies of the match, I was
rather chuffed. The four-time Grammy nominees don't tour the UK that
often but they are a huge deal in the States, much like Jake Owen who
headlined the same stage on the Friday night. Over 5,000 people attended
each night. Five-thousand people. On a golf course, enjoying a concert.
At night. And it was sensational. You didn't need to have attended the
golf to get in, incidentally. Tickets for both gigs were sold
separately. If I'm the organisers of Gleneagles 2019, I'm already on the
phone to the agents of Amy Macdonald and Twin Atlantic.
Waking around the golf course – which wasn't easy to navigate on account of the awful signage (but that's another matter) – it was hard to know the status of the match. That's because there were next to no scoreboards out there. That really needs to be addressed at Gleneagles. There's nothing quite like a guttural matchplay golf roar. It would just be nice to know what its significance is. That all feeds in to…
6. The spectator experience
There were so many things that were really, really good about the 2017 Solheim Cup from a fans' point of view – but it could have been truly great. The spectator village, for example, was pretty scrappy with not enough there to fully justify its existence. By contrast, the merchandise tent had loads of great souvenirs to choose from… but was vastly overpriced (thermos flasks going off at over $31 hardly represents good value). Eight dollars for a beer was a bit steep but not especially dissimilar to what you'd pay at other top sporting events. All in all, the peripheral stuff that elevates the whole experience was a bit hit and miss.
The most important point of all. As the so-called 'third most watched event in sport', the Ryder Cup largely sells itself. The Solheim Cup? Well, it's sadly not quite that straightforward. Despite the fact that this year's event reportedly reached more than 500 million households in 140 countries around the world, it sometimes feels as though a lot of people – even those who follow golf – have no real idea what the Solheim Cup is or how good it is. Despite making an eye-catching debut and finishing on the winning side, US rookie Danielle Kang cut quite a frustrated figure in the post-match press conference when she was asked what she hoped this year's event might do for women's golf. "We play like this every week," she said. "We make birdies every week. We don't just make pars." She's absolutely right. The Solheim, done properly, can be a tremendous exhibition of golf – and that, to my mind, is how it should be sold. A great golf event; not a great ladies' golf event. People need to understand that they're going to get to see and experience something truly special. It won't be an easy message to sell. But there's two years to get it right.
---
More Reads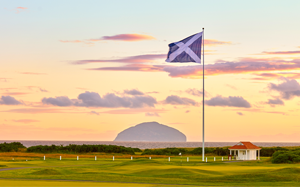 The bunkered Golf Course Guide - Scotland
Now, with bunkered, you can discover the golf courses Scotland has to offer. Trust us, you will not be disappointed.
Find Courses
Latest podcast
Rory McIlroy's resignation and making sense of the WHS