Sign up for our daily newsletter
Want latest news, reviews, analysis, deals, and events, and offers from our commercial partners? We've got you.
If the cliché is true and every day is indeed a school day, then I've had a full and formal education in Iowa this week.
Complete disclosure: I didn't really have any particular expectations when I landed in Des Moines last Tuesday night for the 2017 Solheim Cup.
The feeling of nervous, giddy expectation I've had going to Open Championships or Ryder Cups in the past wasn't there. I can't really explain why.
Skip forward to right now, this very moment, sitting in the media centre in the aftermath of the match, and I'm wishing there was at least one more day. I'm already counting down to 2019 at Gleneagles. Seven-hundred and fifty-four days to go…
So, what have I learned? That women's professional golf can be – and often is – every bit as absorbing, as compelling, as exciting as men's.
It's a message I have routinely preached over the years without ever completely practising. Now, I'm a believer.
How couldn't I be?
Lexi Thompson and Anna Nordqvist produced one of the great matchplay duels of the modern era in the lead match of the singles.
Georgia Hall announced herself as one of the most exciting young talents – male or female – in the game with a scintillating debut.
Danielle Kang played with a flair and vigour that was a joy to behold.
Cristie Kerr and Catriona Matthew further enhanced their Hall of Fame credentials, proving in the process that age is an irrelevance in golf.
The golf on display over the last three days has been exceptional. Not perfect. There's no such thing. But it was of a supremely high quality. A quality that simply couldn't fail to inspire.
There will be critics. There always are.
"Their pace of play is a joke."
Hardly something that's exclusive to women.
"The best players in the world don't take part."
Remind me how many Ryder Cup appearances Gary Player, Greg Norman and Nick Price have made?
"They're not proper athletes."
I've been staying in the same hotel as Lexi Thompson all week. I've seen her work out. If she's not an athlete, I don't know who or what is.
How sad it is that some (many, in fact) would sooner dwell on the negatives than enjoy the positives. It strikes me that they are, for the most part, living out self-fulfilling prophecies.
If I say something is X often enough, it will become it and cease to be Y.
There's a real snobbery about women's golf. I know because I've been guilty of succumbing to it. I'm comfortable admitting that because being snobby about women's golf doesn't make you sexist. Ignorant, maybe. Ill-informed, for sure. But not sexist. Not necessarily.
I know women who would sooner watch the Hassan Trophy than the RICOH Women's British Open – are they sexist, too? Of course they're not.
For such a big word, such a loaded word, 'sexist' is often applied so liberally to the point that it – like so many other words in the English language – has had its true meaning diluted. I can't tell you how much that disappoints me. It's too important a word to be lost to reckless misuse.
But back to this week.
What a thrill it has been to see this event at close quarters, to witness such an appetite for the ladies' game from 150,000-plus golf fans who flooded the course over the week.
There has been a genuine and concerted effort made by those closest to the match to improve its image over the past few years. They've identified that things like players wearing face paint and lavish hair accessories is counter-productive to efforts to be taken more seriously by more people. They've established bold, modern branding. They're trying.
That's not to say that there's not more they can do. Correct me if I'm wrong but I don't recall Darren Clarke and Davis Love III dancing with one another on the first tee at Hazeltine last year. But progress is progress. I'm confident that, in 2019 at Gleneagles, we'll see even more of it.
But do you know what I'd really love? I'd love us to reach a point where we stop talking about male golfers, female golfers, boy golfers, girl golfers and senior golfers, and instead talk only about 'golfers'.
I want us to reach a point where we refer not to men's tees, ladies' tees and junior tees, but front, middle and back tees instead.
I want us to realise that a golf ball doesn't care who's hitting it, so why should we?
It won't happen overnight. I'm realistic enough to admit that it might not happen at all. But it has to be the goal.
I'm also well aware that if you're not part of the solution you're part of the problem. To that point, I'm grateful to have been here this week. It has shown me that my preconceptions about women's golf have been misconceptions all along. That perhaps my mind has been a little narrower than I'd like to admit.
I guess I can sum it up like this: I came out here with no particular expectations but, six days on, I'll be sorry to leave.
---
More Reads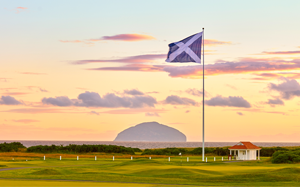 The bunkered Golf Course Guide - Scotland
Now, with bunkered, you can discover the golf courses Scotland has to offer. Trust us, you will not be disappointed.
Find Courses
Latest podcast
Rory McIlroy's resignation and making sense of the WHS