Sign up for our daily newsletter
Want latest news, reviews, analysis, deals, and events, and offers from our commercial partners? We've got you.
Just off the A90 near Stonehaven, at the south end of the new Aberdeen Western Peripheral Route, a yellow road sign points to a development that will be familiar to golfers with long memories and an ear to the ground.
The Ury Estate is an ambitious residential project several years in the making. It spans 1,600 acres and comprises a variety of three, four and five-bedroom homes, many of which are built and occupied. The sunlight hitting the white walls of the properties lights up the streets as kids on bikes perform wheelies up and down the quiet roads.
It radiates modern suburbia and ideal living. And yet, to those in the know, there's a bit that's missing. A very significant bit.
At the bottom of East Lodge Drive, the road comes to a sudden halt. There are no more homes, nor little daredevils on two wheels. Just powered-down diggers parked on mounds of earth.
Keep going through the mud and you come to a narrow path, barely the width of a 4×4. There's thick foliage down the left and farmland all up the right. After a hundred metres or so, a stately-looking building in the distance starts to become visible through the gaps in the trees.
An easy-to-miss little trail through the scrub and shrubs takes you off the path and underneath a fallen tree. It quickly leads to a clearing. At its end, an abandoned bridge sits above a 20-metre drop to a babbling brook below and there to your left, in at least some of its glory, is the centuries-old Ury House, flanked on the west by Fetteresso Forest and the Cowie Water to the south.
This.
This is the missing link. This and its surrounding land, which was meant to be home to a Jack Nicklaus-designed championship golf course.
But it's not and, depending on who you speak to, it's either not yet or not ever.
The haunting silence that ought to have given way to thwacks and sclaffs and celebratory cheers is punctuated only by the eerie whistle of the wind as it slices through a construction fence that wraps around the building.
It's a little bit of something and a whole lot of nothing.
That's why, for many, Ury has become the Golden Bear's white elephant. A major legend's major letdown.
But is that necessarily fair? And is there any future for it? The secret is in the dirt, albeit not that kind of dirt.
* * *
PLANS FOR A RESIDENTIAL golf development at the Ury Estate go back almost 20 years. It was in January 2008 that bunkered first reported the plans as part of a magazine feature branded 'Scotland's Golf Course Boom'.
These were fertile times for the game. The sun was shining and hay was being made. Machrihanish Dunes, The Renaissance, Castle Stuart, Rowallan Castle, Mar Hall, Trump International, gWest: all were at various stages of development and so, too, was Ury.
Part of a reported £40million project spearheaded by FM Developments and intended to "transform Ury into a quality environment for people to live in", the course was to become Nicklaus' second in Scotland following the PGA Centenary at Gleneagles.
Around 160 acres of the Mearns countryside was set aside for the parkland track, with a renovated Ury House to become a fully functioning hotel, complete with a golf clubhouse.
A beaming Nicklaus was pictured in front of the property during a site visit, his enthusiasm for the development palpable from the outset.
"I don't want to boast that it is going to be the greatest golf course in the world," he said, "but, like Loch Lomond and Gleneagles, it will be very favourable.
"The project will be something that is a complement to the area and not something that is controversial. It will be something that is fun and enjoyable. Golf is supposed to be fun."
The development was scheduled for completion in 2009.
Then Lehman Brothers collapsed, the wider financial sector panicked, and the subsequent global economic downturn caused widespread pandemonium.
At Ury, work stalled when FM Developments went into administration in 2009. It was resurrected two years later by parent company FM Ury but, by that time, planning applications for the site had expired and needed to be re-lodged. Proposals for the first 51 of the 230 homes intended to help fund the project were submitted to Aberdeenshire Council in 2012 and were green-lit in the summer of 2014.
Since then, the development has staggered rather than sprinted to the start line. It has been a protracted process, comprising more red tape than a red tape factory and featuring cameo appearances from organisations including the Health and Safety Executive and Forestry Commission Scotland. Homes were built and moved into, but the golf course continued to exist only in dreams and blueprints.
Throughout this time, other projects have successfully negotiated pitfalls of their own. Trump International Golf Links Scotland, for example. Just 30 miles from Ury, on the other side of Aberdeen, it opened one world-class golf course in 2012, saw its owner – endorsed by Nicklaus – spend a term as US president, and is now in the process of creating a second world-class golf course. All the while, Ury has remained stuck in the starting blocks.
Finally, in April 2021, there was a breakthrough. It was announced that activity had commenced to prepare the land for the construction of the course, much to the delight of Nicklaus.
"To have this opportunity to create something truly special at Ury Estate is both an honour and a great responsibility for me," he said.
Sixty-thousand trees were planted with an opening date of early summer 2024 written in pencil.
It's now autumn 2023 and the project appears to be no further forward. And as it turns out, there's a very good reason for that.
* * *
ON MAY 13, 2022, A COMPLAINT was filed in New York's Supreme Court which, at first glance, looked like a mistake: Nicklaus Companies, LLC v. Jack W. Nicklaus.
It was no blunder.
The house that Jack built was taking legal action against him. Or, more specifically, his long-term business partner was.
In 2007, 'Big Apple' businessman Howard Milstein invested a reported $145million into Nicklaus Companies – a conglomerate of golf-related businesses run and owned by the golf great and his family – through his bank, Emigrant. In return, Milstein received a 49% stake in the organisation, with Nicklaus keeping the remaining 51%.
Initially, it looked like a good deal for all parties. Nicklaus was able to retain control of his business interests – including his lucrative golf course design empire – whilst Milstein could look forward to a significant return on his investment thanks to an interest rate of 8.5% reportedly inserted into the deal.
Then Lehman Brothers collapsed, the wider financial sector panicked, and the subsequent global economic downturn caused widespread pandemonium.
With no courses to design nor projects to complete, Nicklaus Companies operated well below projections and ultimately required additional financing. Long story short, control of the company eventually shifted from Nicklaus to Milstein. And that's when relations between the pair began to sour.
In an affidavit last year, Nicklaus admitted: "Once Howard had permanent control of the company, he acted as if he owned me. He tried to control every aspect of my life, from what I did, to whom I spoke with, to where I went, as if I was his property.
"I always tried to be respectful, but there was no respect in return. I also tried very hard to make the relationship work, but it became increasingly obvious that I had aligned myself with a person who didn't respect me as a human being."
After Milstein reportedly rejected his bid to buy Emigrant Bank out of Nicklaus Companies, Nicklaus resigned from the organisation on June 1, 2017, triggering a five-year non-compete period.
With a matter of days of that cooling-off remaining, Nicklaus Companies filed a suit against the 18-time major champion and his company GBI Investors, alleging tortious interference, breach of contract and breach of judiciary duty.
The complaint accused Nicklaus of "repeated acts in bad faith against the best interests of the Company, including acts to intentionally and maliciously undermine the company". It claims he negotiated "side deals" for endorsement services and "unauthorized uses of the Nicklaus [intellectual property] that were in derogation of Nicklaus Companies' rights". This, it claims, devalued the brand and caused it significant financial harm. Nicklaus denied all allegations and, ever since, the parties have communicated across a courtroom.
How does all this affect Ury? It's complicated. Last October, Nicklaus Companies and Nicklaus himself, were both quoted in a press release announcing the launch of the first Jack Nicklaus-branded residential golf community in Europe. Yes, at Ury.
As far as the golf course goes, however, bunkered.co.uk understands the developers want Nicklaus – the man, not the company – on-site to finish the project he started all those years ago.
There are questions around certain parts of the layout – the ninth, tenth and 18th holes, in particular – they'd like his input on. So long as the dispute with Nicklaus Companies remains unresolved, such a visit looks improbable.
Nicklaus Companies did not respond to our multiple attempts to contact them for this piece. For whatever it's worth, Ury Estate continues to feature on the Nicklaus Design website. Below 'Status', it reads 'Under Development (TBD)'.
However, Jonathon Milne, owner and founder of FM Group, is hopeful of a resolution that could, could, see the course ready for play by summer 2025.
"The fundamentals here are still good," he told us. "It's a project that makes sense."
Milne added that Ury House is watertight and primed for renovation. A Stonehaven man, this is a passion project for him and, whilst he'd like to complete the job, he's prepared to wait to do it right.
"Hopefully, there's light at the end of the tunnel," he said. "Watch this space."
Some locals are less optimistic. One, who asked not to be named, said: "I suspect I'll be dead and gone before a golf course ever gets built there. It's a shame, really. It's a great bit of land."
A great bit of land where the thwacks and sclaffs and celebratory cheers continue to exist only in the mind's eye at the bottom of a road to nowhere.
At least for now.
---
More Reads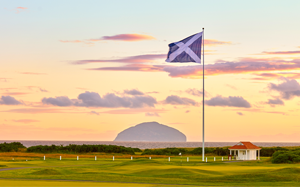 The bunkered Golf Course Guide - Scotland
Now, with bunkered, you can discover the golf courses Scotland has to offer. Trust us, you will not be disappointed.
Find Courses
Latest podcast
Rory McIlroy's resignation and making sense of the WHS