Sign up for our daily newsletter
Want latest news, reviews, analysis, deals, and events, and offers from our commercial partners? We've got you.
Considering the venue for next month's Ryder Cup, there's a tragicomic irony in Zach Johnson having 'fiddled whilst Rome burns' as it relates to the biggest issue impacting his captaincy: a place for LIV golfers on his team.
Granted, comparisons to the inferno-ignorant Emperor Nero don't extend much further. He, goes the legend, was a tyrannical and extroverted leader, whereas Johnson is not.
Still, the two-time major champion's indecision on this particular matter has done little to inspire confidence that he's the man to end 30 years of American hurt on European soil.
Ahead of the PGA Championship in May, Johnson said that the prospect of LIV players making his team was "not even a discussion item". Even as Brooks Koepka was easing to victory on the Sunday at Oak Hill, he doubled down, dismissing the prospect as "too premature" and "frankly irresponsible".
He even admitted to having "no idea" where Koepka's win would move him to on the US Ryder Cup points list. "I don't know the actual science behind that," he revealed.
Since then, the decision has been out of Johnson's hands. Koepka was an ever-present in the automatic spots until last night when, in the last moments of the final qualifying event, he was overtaken by both Max Homa and Xander Schauffele.
Now, Johnson has a decision to make: use one of his six picks on the man who finished seventh in qualifying and won the PGA Championship just over three months ago, or leave him out.
It's not as though there's no precedent for doing the latter. On only three of the 16 occasions that the US has deployed captain's picks has the 'Next Man' in qualifying been chosen: in 2008, when Steve Stricker was the beneficiary; in 2018, when Bryson DeChambeau got in; and in 2021, when Stricker paid the compliment forward and picked Tony Finau.
Much less common is the tendency to leave out reigning major champions. Again, since the USA started using captain's picks in 1989, there have been only five instances of eligible, current major champions missing out on the corresponding Ryder Cup: John Daly twice, in 1991 and 1995; Todd Hamilton, in 2004; Tiger Woods, in 2008; and Phil Mickelson, in 2021. Woods' absence was injury enforced. Mickelson took up a vice-captaincy gig. The others simply neither qualified nor were picked.
Rather than observe Koepka's position through isolated pieces of data, however, you need to examine him in a much broader context.
He finished seventh on the standings, in spite of playing on LIV.
He won the PGA Championship (and very nearly the Masters) this year, in spite of playing on LIV.
He's currently the world No.13, in spite of playing on LIV.
He has also played in each of the last three Ryder Cup matches and has yet to lose in the singles.
His performances in the majors this year have surely answered any questions about his ability to remain competitive whilst playing amongst Greg Norman's band of so-called 'rebels'. He has always been a big-time performer – remember when he said he believed majors were 'the easiest' events to win? – and, in the context of men's professional golf, it seldom gets more 'big-time' than the Ryder Cup.
Bottom line: if you add up everything Brooks Koepka has done this year but substitute his name for Rickie Fowler, Tony Finau or Jordan Spieth, there's no debate to be had. He'd be packing his bags and flying to Italy.
Overlooking him, therefore, likely comes down to a de facto referendum on LIV where the only ballots being counted belong to Zach Johnson, his vice-captains, and the six players already qualified. PGA of America officials might have had a vote but surely showed their hand when they allowed LIV-ers – 17 of them, indeed – to play in the PGA in May.
No, Koepka's involvement will likely be determined by a group of people who will have to weigh the obvious benefits of having him on the side with the emotional investment each of them has in golf's civil war.
For what it's worth, it seems as though Johnson is leaning towards not choosing Koepka. During a podcast appearance last week, he said: "It's hard because I'm not able to witness what [LIV golfers] are doing and see their form, with the exception of four events a year. What Brooks has done this year, well, no one's surprised. I'm just glad he's healthy."
Gamesmanship? Keeping Europe guessing? Maybe. But it's consistent with everything Johnson has said about LIV over the last 12 months.
He'll finally show his hand on August 29 when he names the six men to join his assault on the 'Eternal City'. Until then, and maybe for some time thereafter, there's a wonderful Italian proverb he'll presumably relate to.
Nessun sente da che parte preme la scarpa, se non chi se la calza.
No one knows where the shoe pinches, but he who wears it.
As for Koepka? Well, he said it best in the aftermath of his 2018 US Open victory.
"I always feel like I'm overlooked."
Et tu, Zach?
---
More Reads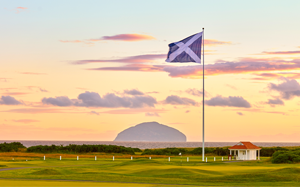 The bunkered Golf Course Guide - Scotland
Now, with bunkered, you can discover the golf courses Scotland has to offer. Trust us, you will not be disappointed.
Find Courses
Latest podcast
Rory McIlroy's resignation and making sense of the WHS