Sign up for our daily newsletter
Want latest news, reviews, analysis, deals, and events, and offers from our commercial partners? We've got you.
I've always found opening ceremonies a bit, well, naff. But I think I may be softening in my older years. (Proof? The Ryder Cup Guardians are rather bloody good blokes.)
Gone are the days when the European Ryder Cup team and their rivals from across the Atlantic hated each other.
Like, properly despised each other. Now, they all live on the same street in Jupiter.
"For one week, they're not my friends," Rory McIlroy has said ahead of, well, pretty much every Ryder Cup in which he has played – convincing absolutely no one, by the way.
Oh how we long for the days of a Seve Ballesteros-Paul Azinger rules kerfuffle, or Dave Hill threatening to wrap his 1-iron round Bernard Gallacher's head, or Phil Mickelson and Tiger Woo… wait – they were on the same team.
And, as with any sport, all the niceties of the actual action must be preluded by an opening ceremony.
Oh god, the opening ceremony. They're going to say nice things to each other, aren't they? Luke Donald and Zach Johnson are good pals. When we spoke to the American captain for the Ryder Cup preview issue of bunkered, he said: "To partner with him in this endeavour, in this distinct honour, is awesome. I love the Donalds, and I'm happy we get to do it together."
Or, as one journalist called this ding-dong captaincy tussle: "The Coma in Roma."
The opening ceremony is cheesier than Justin Rose's grin after a bag of Wotsits, but I shuffle over to where it is all happening.
As I approach I can hear the delicious accent of TV presenter and our host for the next hour, Melissa Satta. (Speaking in English, obviously. We are in Italy, after all.)
After some pleasantries, she's keen to get us underway. "Please welcome to the stage… Tom Grennan!"
Sorry, who? I've never felt older than I do right now. But then the last album I bought was in 1998. I'm sure the kids love him.
He smashes through one of/his only hit before Melissa returns to introduce the captains and their teams.
A few boos are sprinkled from the watching crowd, mostly for Brooks Koepka, but even this is too nice. In 2018 the French went for the jugular on every single player. But then they did have Patrick Reed.
As always, the visiting captain is up first, and Johnson stands up and opens with a couple of words in Italian. Then, just as he starts to get into the rhythm, a flyover interrupts him.
Zach Johnson's opening ceremony speech interrupted by these legends pic.twitter.com/h0DvVEmASx

— bunkered (@BunkeredOnline) September 28, 2023
As the blue sky above us turns red, white and green, Johnson battles on.
The first sign of his voice cracking begins when he thanks his wife and kids. He recovers in time to list seemingly every single person involved in the Ryder Cup process. I'm pretty sure I wasn't far off from getting a mention for risking my life to be here.
There are murmurings among the crowd. There's tension in the baking Rome air. How can Luke Donald ever top this?
By stepping up and delivering an entire monologue in Italian, that's how.
Duolingo lessons paid off 🇮🇹#TeamEurope | @LukeDonald pic.twitter.com/9asrEKRLsy

— Ryder Cup Europe (@RyderCupEurope) September 28, 2023
O captain! My captain! Europe one-up.
But can a Ryder Cup be won or lost in the captain's speeches? Well, no, obviously not – but they sure as hell can set the tone.
Luke rattles through his usual thank yous – which includes the caddies, something ZJ didn't do – and speaks with class and passion.
When it comes to the vice-captains, the place erupts for the two Italians involved on the team – Frankie and Dodo Molinari – before chants of "Seve! Seve!" fill the air when Jose Maria Olazabal is announced. OK, now I'm starting to choke up a little. I would would run through brick walls for that man. And so would you.
Onto the players and, for my money, Rory McIlroy gets the biggest cheer from the crowd, closely followed by Sepp Straka. Though that might be because I'm stood next a group of Austrian fans.
But now, Ms Satta tells us, "it is time for the moment we've all been waiting for".
The opening foursome pairings are about to be announced. The speakers blare out something akin to the Who Wants to be a Millionaire? music and the skippers rattle through their first lambs to the slaughter.
Our new favourite popstar returns to the stage and the world discovers he has more than one song.
During the chorus, he sits between Rory McIlroy and Bob MacIntyre and offers both the chance to sing. Shane Lowry loses it and puts the Scot in a headlock. Imagine what he'll do if Europe win.
"RIGHT!" Ms Satta screams into her microphone, "WHO WILL WIN THE 2023 RYDER CUP?!"
The cheers are less enthusiastic. Everyone's started moving to the bar. Or the shop. Or the bus stop.
Can it just be Friday morning now, please?
Listen to our ramblings from Marco Simone on daily episodes of The bunkered Podcast.
---
More Reads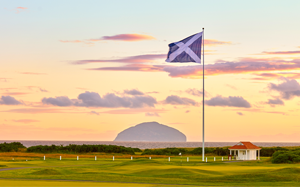 The bunkered Golf Course Guide - Scotland
Now, with bunkered, you can discover the golf courses Scotland has to offer. Trust us, you will not be disappointed.
Find Courses
Latest podcast
Rory McIlroy's resignation and making sense of the WHS