Sign up for our daily newsletter
Want latest news, reviews, analysis, deals, and events, and offers from our commercial partners? We've got you.
We all know how amazing Augusta National Golf Club looks on our TV screens – but for those lucky enough to go to the Masters, it's even better from the naked eye.
But what's the local area like? Not surprisingly, it's quite different to what you might expect. Bobby Jones and Clifford Roberts bought the 365-acre site of Augusta National Golf Club on Washington Road in 1931 for $70,000, and the rest is history.
Through the gates, the golf course has changed considerably, both as a means of keeping up with fast-changing technology, and also as a way of leading from the front as a tournament host.
Augusta National allegedly paid around $6m to buy a local music store on the corner of Berckman's Road, which is the primary entrance for patrons to the course. Within a matter of months, the store is gone, and a car park is in its place. The site of the old music store was also used as hospitality, and that's now gone, too.
ANGC have slowly been buying up certain areas around the golf course property to allow them to have 100% control during tournament week. For example, patrons park for free during the Masters.
The local area is, however, rundown, although ANGC is said to be heavily involved in local charities – even if it doesn't shout about it – with a report back in 2007 saying the club had donated up to $30m through the years to local causes.
But what's downtown Augusta like if you're visiting? The answer is likely to be somewhere between 'okay' and 'fine'.
HOTELS

Not cheap, with prices for the week around $1,300, if you book early enough. One hotel this week has late rooms, and is pricing them at $650 a night. If you're prepared to drive each day, then the rate drops, but not by much.
RESTAURANTS

If you like fast food chains such as Arby's, Burger King, McDonalds, Red Lobster, Chuck E. Cheese, Checkers, then you're in luck. But if you want proper food that won't destroy your insides, you'll struggle, and you'll get bored searching for somewhere decent. Best advice is to fill your tummy at the course. After all, the food is great, and it's cheap.
BUYING TICKETS
Let's be honest, you won't come this far without a ticket, but many people do, such is the lure of the Masters. It is not uncommon to see fans standing by the side of the road with 'I need tickets' signs. One told me he'll pay top dollar but refused to say what top dollar was. I then realised he thought I was spying on him, as there is a boundary around the property where no ticket can exchange hands. You can buy tickets through various sources in the UK and, in the States, via stubhub.com, and you can also buy on the side of the road, but this is not advisable. Most tickets available on the roadside are for practice days. Competition day tickets can go for around $6,500 online.
LOCAL SITES

Downtown Augusta, in the old town, is nothing much to write home about. Broad Street will take you in the direction of the Old Town, which is nice enough, but you wouldn't want to spend an evening here. The most happening parts on Broad Street are between 7th and 13th streets. You'll find the best mix of bars and restaurants in this area, and it'll be jumping with golf fans.
MERCHANDISE

On the street, there's a surprising amount of Masters merchandise – but the best place to source old merch is actually the local thrift stores, where the prices are much more respectable and give you a bigger choice. Inside the grounds is where it's at for merch fans. Bring your credit card, and prepare to nudge folk out the way to get what you want. The queues aren't as bad as they look, and move fast, the prices are very reasonable. It's not uncommon for the guy at the till next to you to be splashing $5,000.
GETTING AROUND

You'll need a car. You simply can't move around freely by relying on public transport. And don't even think of walking.
INSIDE THE GROUNDS

There are lots of things you can't do as a patron (see below). This is often the focus for some, and it's easy to see why, but, in reality, you'll have the time of your life at Augusta National. The marshals say 'hello' rather than bark at you, the viewing spots are incredible, and the myth about putting your seat down anywhere on the course and coming back hours later and it still being there is true.
---
More Reads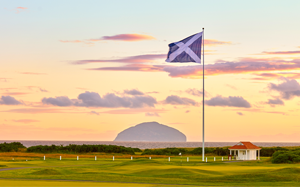 The bunkered Golf Course Guide - Scotland
Now, with bunkered, you can discover the golf courses Scotland has to offer. Trust us, you will not be disappointed.
Find Courses
Latest podcast
Rory McIlroy's resignation and making sense of the WHS