Sign up for our daily newsletter
Want latest news, reviews, analysis, deals, and events, and offers from our commercial partners? We've got you.
"The secret of change is to focus all of your energy, not on fighting the old, but on building the new."
Socrates said that. Smart man. Knew what he was talking about.
Golf, like most things, could learn from that kind of thinking. In a sport where traditions are seemingly unimpeachable and convention is becoming ever more unconventional, 'getting with the times' can be hard to achieve.
Bluntly, golfers are creatures of habit. They know what they like and they like what they know. For many, 'modernisation' is a scary concept and to be resisted.
That being said, we can't afford to keep standing in the way of progress. That's why, as soon as possible, it's time to make The Players Championship a fifth major. It's been 'unofficial' long enough. It's time to make it official.
Why? The question, surely, is why not? It has the best field of any tournament on the calendar; offers the highest world ranking points outside the four existing majors; is one of the richest events in the game (only the US Open and Masters offer more money); and it has an iconic, permanent home at TPC Sawgrass complete with its par-3 17th, one of the most famous holes in golf.
Then there's the matter of its roll call of former champions: Jack Nicklaus, Tiger Woods, Greg Norman, Sergio Garcia, Phil Mickelson, Fred Couples, Sandy Lyle, Lee Trevino – all legends of the game, all with their name on the trophy.
Quite simply, it is a major in all but standing. The recent decision to move it up on the schedule to a new date in March also would appear to present the perfect opportunity to 'up' its status and deliver a major a month from March to July: The Players in March, The Masters in April, the PGA Championship in May, the US Open in June and The Open in July.
There appear to be two counter arguments to giving The Players major status. Firstly, that golf 'doesn't need' another major in the USA. There are many who contend three of the four already being there is disproportionate and that, if a fifth was to be 'created', it should instead be somewhere like South Africa, Australia or China.
Secondly, there are historical implications of adding a fifth major. At a stroke, the identity of the 'Grand Slam' would change. How would we measure the achievements of the five players currently in that exclusive club? Gene Sarazen, Ben Hogan and Gary Player never won The Players. Sarazen and Hogan never even played in it. However, Jack Nicklaus and Tiger Woods have both won multiple times at Sawgrass. Does that make their achievement greater
than that of their current 'Grand Slam' contemporaries?
Further to that, do we backdate 'major winner' status to every former winner of The Players? If so, you would create 13 new major winners overnight and after the fact, including Rickie Fowler, above, Matt Kuchar,
Fred Funk and Stephen Ames.
Granted, these are fair points – but they're hardly insurmountable.
Whilst the Masters and US Open have identities linked to geography, there is no reason why future editions of either The Open or PGA Championship couldn't be played in the likes of Australia or South Africa. The proposition of contesting the Claret Jug or Wanamaker Trophy over one of the spectacular 'Sandbelt' courses 'Down Under' is actually quite an exciting one. Probably difficult to achieve – but not out of the question. After all, if the NFL has been able to stage some of its regular season matches at Wembley Stadium – and do successfully – what's to stop other sports and sporting events from following suit, fly in the face of convention and expand into new, uncharted frontiers?
As to the historical implications, the decision in 2013 to make the Evian Championship a fifth major in the women's game has had zero effect on the public's perception of the most successful female golfers of all time.
Patty Berg, Mickey Wright, Louise Suggs, Annika Sorenstam – these are still the greatest players in the history of women's golf. It doesn't matter that they didn't win the 'Grand Slam' as we knew it, know it or will get to know it in the future. All that matters is the total number of majors they won. That's the bottom line.
The 'Grand Slam' is an exclusive club, no doubt. But it's hardly a 'who's who' of the greatest players ever to play the game. How can it be when it doesn't feature the likes of Arnold Palmer, Bobby Jones, Tom Watson, Sam Snead and the like? It's a thing but it's not the thing.
To the point of retroactively making former Players winners major winners, that wouldn't be right. Previous editions weren't majors – why pretend they were? Instead, draw a line in the sand and say that, from this point on, its status has been elevated.
It should also be noted that major changes to major golf is nothing new. Originally, the majors consisted of The Open, The Amateur, the US Open and the US Amateur. Bobby Jones completed a clean sweep of the four in 1930.
However, the introduction of The Masters in 1934 and the subsequent rise of pro golf challenged conventional thinking.
The term 'majors' wasn't even used much initially. According to Dan Jenkins of Golf Digest, it was Herbert Warren Wind who invented it. "He said golfers had to be judged by the major tournaments they won, but it's not like there was any set number of major tournaments," said Jenkins.
A conversation between Arnold Palmer and Pittsburgh sportswriter Bob Drum in 1960 brought about the first known talk of the modern 'Grand Slam'.
"Drum got me all excited about it," the late Palmer is on record as saying. "He wrote about it. He got the British press all excited about it. And they picked up on it."
What does all of this prove? That men's major golf as we know it is not a 'cast in stone', 'has always been done this way' concept. It has evolved over a period of more than 100 years to more closely reflect golf's modern circumstances.
In other words, the 'don't mess with tradition' opponents to The Players becoming a fifth major are fighting a futile, unrepresentative fight.
It makes sense and has long done so.
Let's not stand in the way of progress any longer.
Let's do the right thing.
Let's make The Players a major.
---
More Reads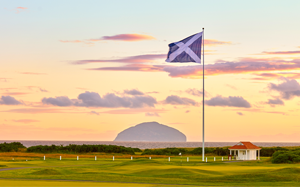 The bunkered Golf Course Guide - Scotland
Now, with bunkered, you can discover the golf courses Scotland has to offer. Trust us, you will not be disappointed.
Find Courses
Latest podcast
Rory McIlroy's resignation and making sense of the WHS