Sign up for our daily newsletter
Want latest news, reviews, analysis, deals, and events, and offers from our commercial partners? We've got you.
It's central theme may well be his emphatic 1997 Masters victory but Unprecedented: The Masters & Me is probably the closest thing to a memoir Tiger Woods will ever write.
With a narrative woven around the week of his first major victory – a chapter for each day – Tiger's new book addresses a spectrum of significant issues. From racism to 9/11, there is a lot more to it than 'let me tell you how I won the Masters'.
At times, the book is genuinely fascinating, particularly when Tiger really starts to open up. Consider this passage on the breakdown of his marriage to Elin Nordegren, for example. "[We] were so much in love when we married in 2004. But I betrayed her. My dishonesty and selfishness caused her intense pain. Elin and I tried to repair the damage I had done, but we couldn't. My regret will last a lifetime."
He also discusses Fuzzy Zoeller's racially-charged comments following
Woods' victory at Augusta in 1997. Zoeller infamously remarked that
Woods might be inclined to serve 'fried chicken' at the 1998 Champions'
Dinner 'or collard greens or whatever the hell they serve'.
In
the two decades since, Woods has largely kept his own counsel on those
remarks, but covers them at length in the book. "His comments had a
racist twinge. Would it matter if he meant what he had said as a joke?
If he had it sure didn't come across as funny."
Even so, despite these moments of uncharacteristic candour, you can't help but feel that Woods continues to hold back. He even acknowledges how guarded he can be, describing himself as 'introverted' and adding: "I preferred to be insulated from the outside world." Tellingly, he notes his difficulty in trying to find a balance between his private life and his public life. "I'm not sure I ever have [found it]," he says.
It's also worth acknowledging the people who are noticeable by their absence. Steve Williams, Hank Haney, Sean Foley, Lindsay Vonn – none gets a mention. Fair enough, you might say. They weren't on the scene when Woods won in 1997. A reasonable argument, but one that would carry infinitely more weight had other 'non-relevant' avenues not been covered. What, for example, does his vice-captaincy at the 2016 Ryder Cup have to do with the 1997 Masters?
The chapter he devotes to the changes made to Augusta since his breakthrough victory is truly fascinating.
Sizeable chunks of the early chapters discuss Woods' thoughts on the golf swing and are quite technique-heavy. However, the trade-off for the reader – certainly those who have little interest in swing theory – is the chapter he devotes to the changes made to Augusta since his breakthrough victory. It is truly fascinating, particularly when he discusses how he would tweak the layout if given the opportunity. There is also this fantastic little nugget on arguably the most iconic hole on the course: "If they ever lengthen twelve, I'm out of there."
He also discusses what he calls 'the failure of the ruling bodies to regulate the ball'. His thoughts on technology and how best to meet the differing needs of amateurs and pros are thought-provoking.
More than anything, the book feels like a tribute to Woods' late father, Earl. He mentions him regularly. Interestingly, he notes that 'Pop', as he called him, predicted he would win 14 majors and, the more you think about it, the more you wonder if reaching that number in June 2008 blunted Tiger's ambition. You begin to question what has really driven him all this time: eclipsing Jack Nicklaus' record or living up to his father's expectations?
Anybody looking to use the book to draw conclusions as to what the future holds for Woods will probably come away believing he has accepted his best golf is behind him. To that point, the last six words of the book will make his most loyal supporters shudder.
At little over 200 pages, it's hardly War and Peace. It's a quick and easy read but, much like Tiger's latest comeback, it's over all too soon. Just when you feel like you are getting to know Tiger's true thoughts, he regularly shuts it down and the narrative shifts. As a body of work, it's infinitely more revealing than any interview or press conference he has ever done. You just can't help feeling there is more he could say.
Still, because of who he is and what it is – a condensed autobiography of the most influential sportsmen of a generation – it will no doubt fly to the top of bestsellers' lists.
Sitting at the top, looking down at his contemporaries, delighting and frustrating in equal measure, 'Tiger: The Book' is a neat metaphor for 'Tiger: The Golfer'.
And that might just have been the point all along.
Tiger Woods' new book – your thoughts
Have you read "Unprecedented: The Masters and Me" by Tiger Woods? What did you think of it? Leave your thoughts in our 'Comments' section below.
---
More Reads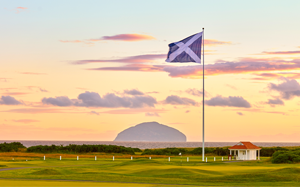 The bunkered Golf Course Guide - Scotland
Now, with bunkered, you can discover the golf courses Scotland has to offer. Trust us, you will not be disappointed.
Find Courses
Latest podcast
Rory McIlroy's resignation and making sense of the WHS