Sign up for our daily newsletter
Want latest news, reviews, analysis, deals, and events, and offers from our commercial partners? We've got you.
The nagging feeling in the aftermath of the 2023 US Open is that it won't go down as a classic.
It's such a shame for Wyndham Clark, who showed incredible resilience down the stretch to hold off a stacked leaderboard that included Rory McIlroy, Rickie Fowler and a lurking Scottie Scheffler.
Clark's major record now reads a tie for 75th, a tie for 76th, four missed cuts, and a victory. And his story is as remarkable as it is heartbreaking. Introduced to the game by his mother at the age of three, Clark's new obsession saw him rise through the ranks of his high school and college teams before his mother was diagnosed with breast cancer. She died during his second year at Oklahoma State. 
His fellow 'Cowboy', Fowler, who had played a few practice holes with Clark at LA Country Club as well as the two weekend rounds of the tournament, embraced him after his victory. "Your mom was with you," Fowler told him. "She'd be very proud." Incredible class from a man coming to terms with his own emotions. 
Rickie Fowler is class through and through. 👏🏼👏🏼 pic.twitter.com/29opTlT9u2

— bunkered (@BunkeredOnline) June 19, 2023
So why, in five, 10, 20 years' time, will we look back on this US Open as one to forget – filed away in a folder marked "Do Not Open" alongside Webb Simpson, Lucas Glover and Steve Jones?  
It's not that the fans didn't get the winner they wanted. Golf is generally incredibly welcoming of its new champions, even if they have seen off a favourite. Stewart Cink is often a punchline for what he did to Tom Watson at Turnberry, but we still embrace him as the Champion Golfer he so deservedly is. 
But it was a bitter pill to swallow after three days of hype surrounding McIlroy and Fowler – the former looking to end an inexplicable nine-year major drought, the other still somehow looking for his first. That's not Clark's fault, by any means. It's our own idiosyncrasy and we need to deal with it. 
• Rory McIlroy philosophical after another near-miss
So now who do we point fingers at?  
The USGA? West coast majors are often an issue for those of us on this side of the world, and while the governing body can't control time zones, they can control tee times. Saturday's third round didn't get underway until 9.30am local time – 5.30pm here in the UK, so anyone that managed to stay up to watch to the end will have peeled themselves off the sofa to be welcomed by Sunday's sunrise. Clark and Fowler ended up finishing up on 18 in the dark. An unforgivable mistake from the powers that be. 
That, though, was just a minor gripe.
LACC? A fine golf course, no doubt, that had just enough quirkiness about it to allow us to see past its problems – namely its three 200 yard-plus par-3s. But the ultra-exclusivity of the club provided its own issues. Each day felt incredibly flat. Where were the roars that normally echo around a major venue? A more appropriate question, perhaps, might be where were the fans? This is the heart of Los Angeles. Beverly Hills is next door and the Sunset Strip skirts round the north tip of the course, while the skyscrapers of downtown and the Hollywood Hills loom in the background as a regular reminder that this is remarkable piece of land is smack bang in the heart of one of the world's most vibrant cities.
• 10 things Wyndham Clark gets for winning the US Open
Everything is bigger and louder in this corner of California. So why weren't the crowds?
The answer, it seems, lies in the numbers.  
The daily attendance, it was reported by Golf Digest, was a mere 23,000 – more than half that of a normal US Open. (This feels like a good place to remind you that a record 290,000 patrons attended the 150th Open at St Andrews.) 
Of those 23,000, the reports says, 14,000 were allotted for the highly exclusive and highly expensive hospitality suites, which, as with any sport, tends to attract the corporate type rather than the here-to-watch-world-class-golf type. This was perhaps best summed up in the final round when Harris English's errant drive on the opening hole was picked up by one of said lanyard-wielding "fans".  
Why do people go to a golf tournament and do this? 🤦🏻‍♂️ pic.twitter.com/6NrlCVY5gX

— Alex Perry (@byAlexPerry) June 18, 2023
Back to the maths, and of the 9,000 remaining for general admission, half of those were snapped up by LACC meaning there was just 4,500 for the public each day.  
But then what else should we expect from a golf club that issues its members with an encyclopaedia-sized document of its rules – so many of which begin with the word 'no' that it would be easier to list what you are allowed to do. 
Even when the minimal amount of fans could get in, they couldn't get close to the action. There were multiple reports of people complaining the way the fans were routed – often for safety purposes at a course that includes remarkable elevation changes – made following a particular player or pairing nigh on impossible. Matt Fitzpatrick, the defending champion, had one of three holes-in-one at the par-3 15th during the week – not that you would have known it from the reaction behind the ropes. 
So a huge congratulations to Clark, who thoroughly earned his place in golf's illustrious history as its 231st major champion, but this one will be lost in the annals of time. And that brings its own problems in an era where the sport has never been more divided and we rely on at least four tournaments a year where we can forget about the politics.
Let's hope they can fix it before the US Open returns here in 2039.
---
More Reads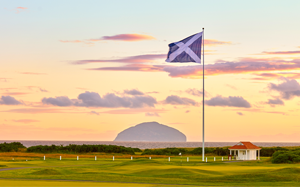 The bunkered Golf Course Guide - Scotland
Now, with bunkered, you can discover the golf courses Scotland has to offer. Trust us, you will not be disappointed.
Find Courses
Latest podcast
Rory McIlroy's resignation and making sense of the WHS