Sign up for our daily newsletter
Want latest news, reviews, analysis, deals, and events, and offers from our commercial partners? We've got you.
When you set foot inside a place of reverence, nobody commands you to adopt a hushed tone and a respectful manner. Instinct tells you it's the right thing to do.
Jack Nicklaus' latest creation, American Dunes, will have that same impact upon its guests.
As you enter the clubhouse at this Michigan venue, you will do so flanked by eight-foot walls. Imprinted in the otherwise smooth cement will be the boot prints of United States service members who have died in the line of duty.
On the walls, the stories of those same servicemen and their families will be told, in what will be known as the Folds of Honor Memorial. From the very moment you enter this property, it is clear you tread on hallowed ground.
"We've built a golf course unlike anything anywhere else on the planet," Lt Col Dan Rooney of the US Air Force, and the brains behind American Dunes, tells bunkered. "We have created a place that will leave behind a legacy for the men and woman of this country who have made the ultimate sacrifice. If you just look at it from a golf purist form, I have no doubt that this course will take its place in the upper echelons of public golf courses in the US. It is phenomenal."
A fighter pilot in the American Air Force and a certified PGA professional, Rooney is the key figure in the story of American Dunes. After witnessing the grim realities of war for himself – watching on as a grieving family received the flag-draped coffin of their loved one – Rooney mobilised himself into action.
Rooney, who has racked up over 1,800 hours of flight time, founded Folds of Honor, a non-profit organisation that supports the families of fallen and disabled military personnel. As the inaugural fundraiser for his new organisation, in 2006, Rooney decided to host a golf tournament at the venue which his parents owned, Grand Haven Golf Club in Michigan. In the decade that followed that inaugural fundraiser, Folds of Honor has grown to become one of the biggest military charities in the states, funding more than 29,000 scholarships to military families, totalling $140 million.
• Tunisia: A golf destination on the up
"Three years ago, when my parents said they were keen to sell the club, I saw an opportunity to take it on, create something new and immortalise the place forever," explains Rooney. "I wanted to create somewhere special and to do that I needed to turn to someone special."
Jack Nicklaus had previously been involved with Folds of Honor, supporting the organisation and its charity events over the years, but Rooney admits that he wasn't on first-name terms with the 18-time major champion – until he posed the idea of American Dunes. Rooney pitched his vision to Nicklaus, who loved it so much that he not only agreed to come on board, but to waive his $3million design fee.
"Working with Jack Nicklaus to design this golf course has been an experience like no other and we have succeeded in creating something beautiful," beams Rooney. "The story of the sacrifice of these military families continues on the golf course because we want people to be aware that this is the reason this golf course is here."
Every tee box will have three stone plaques, each representing something different. The first will represent one of Nicklaus' major championship victories, another will pay thanks to the private donor who sponsored that hole's construction and a third will tell the story of a Folds of Honor family.
• Royal Golf La Bagnaia – Italy's rising star
"At one o'clock, every day at American Dunes, the onsite bell tower will toll 13 times, representing the 13 folds that bring the American flag into its triangle shape, when it is folded into that iconic shape of freedom. The whole club will shut down, golf stops and everybody leaves the clubhouse. We use those couple of minutes every day to reflect on the fact that freedom is not free and recognise the men and women who have given everything for us to live like we do today."
Although the golf is very much a sideshow at this venue, the golf course that has been created is of sensational class. "It was a property full of trees, about 300 yards off of a lake," says Nicklaus. "We basically took every mature tree in the interior portion of the golf course off the property. The unique aspect was removing all those trees and creating a sand dunes property. It was really different and unusual, but I think we pulled it off very well."
• Navarino Hills: Ollie's latest triumph
With American Dunes having had its grand opening in May, Rooney says he is ready to redefine the golf experience as he reveals that every single penny the golf course makes will go towards the Folds of Honour Foundation.
"Over the years, I am confident this golf course will donate millions of dollars to the charity. Nobody has ever done anything like this, but I think this is going to create awareness and educate people through the medium of golf."
More Reads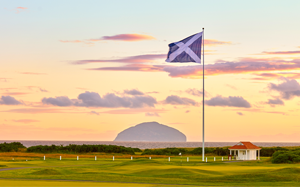 The bunkered Golf Course Guide - Scotland
Now, with bunkered, you can discover the golf courses Scotland has to offer. Trust us, you will not be disappointed.
Find Courses
Latest podcast
Rory McIlroy's resignation and making sense of the WHS