Sign up for our daily newsletter
Want latest news, reviews, analysis, deals, and events, and offers from our commercial partners? We've got you.
There's no doubt that professional golf and Saudi Arabia are now closely linked. But what is it like to play golf there?
The nation, which sits in the Arabian Peninsula, might have meant next to nothing to most golfers a few years ago, but with the introduction of the LIV Golf League, and now the proposed framework agreement between PIF and the PGA Tour, it's impossible not to take notice.
When bunkered travelled to the Aramco Team Series – Riyadh, it was clear that there are big plans for golf in the Kingdom. Although we didn't get the chance to tee it up, from watching golf and speaking to those involved in the game in the Middle East, a few things stood out. Here's five things we learned.
1. The desert isn't a bad spot for golf
One thing that won't escape you when you travel to Saudi Arabia is that it's very flat, and very sandy.
You might not think this is prime conditions for building golf courses, but being in the desert does have its advantages.
• LIV Golf: How does promotion work?
Take Riyadh Golf Club, the host of the Aramco Team Series event, for example. The course here sits just off a motorway, close to Riyadh Airport, and it's essentially in the middle of the desert. If they wanted to build a golf course anywhere within a 30-mile radius of there, it really wouldn't be an issue.
The course here consists of huge fairways, bordered by slim patches of rough. These expanses of grass sit in the desert, so you'll get sand for as far as you can see if you're not in the fairway. Those fairways, by the way, are pristine. There's no expense spared on getting water onto the grass every night, and it looks brilliant as a result.
Because there's nothing to get in the way of new parts of the golf course being built, tees and greens can essentially be placed anywhere.
Quite a layout here at Riyadh Golf Club, host of this week's Aramco Team Series. Desert meets grass with nothing in between 😅 pic.twitter.com/4o2EcMavPd

— Lewis Fraser (@lewisfras98) October 25, 2023
This does make for some long walks between greens and tees, and these are sometimes through sandy areas.
As a course architect, the landscape is essentially a blank canvas. Want a 10,000 yard course? No problem.
2. The golf course isn't a place for traditions
Anyone who has been to Saudi Arabia before will know that in everyday life, there's certain etiquette that needs to be followed.
However, almost all of this is disregarded in the grounds of the golf course.
• What's it like to compete in the World Long Drive Championship?
Take shorts for example. When we went further into the city of Riyadh, shorts were a 'no,' but on the golf course, men and women were wearing whatever they liked.
It's probably just as well, too, as temperatures get incredibly hot here. In late October, it got to around 32°, but in the weeks prior, it was getting above 40°. Not weather you want to be wearing trousers in.
3. Infrastructure is going up at a rate of knots
The skyline around Riyadh Golf Club is dominated by two things. Skyscapers and cranes.
Both of which are very much a symbol that this country is building things, and building quickly.
The clubhouse that was hosting the players for the Aramco Team Series was essentially brand new for the week of the tournament, with work still taking place inside the building while players were arriving for practice rounds.
As one person at the golf course told us, if Saudi Arabia wants to build something, they will, and they'll do it quickly.
The same applies to golf courses, with some big projects in the pipelines. You can expect more and more golf courses to start appearing here pretty soon.
4. Night golf is very cool
Saudi Arabia can't claim to be the inventors of night golf, but it's certainly a great thing to have going for you.
On the night before the event got underway in Riyadh, there was a pro-am under the floodlights, which was a shotgun start at 5pm.
Rhythm. @Annevandam with one of my favourite swings. Also, night golf is incredibly cool. pic.twitter.com/mXrXDgDii1

— Lewis Fraser (@lewisfras98) October 26, 2023
At that time, it's much cooler and the lights really do create a brilliant atmosphere. Following the ball against the night sky is almost easier than in the bright sunlight.
It's not just a gimmick either. For locals, night golf is, in the summer, more popular than playing during the day. That's thanks to the more pleasant conditions, and it fits in with the late-night culture that exists in Saudi Arabia.
5. Fans are getting on board, but it's a slow process
When we visited the Riyadh Boulevard, adverts for the Aramco Team Series were emblazoned across digital billboards. From the powers that be, the desire to get people interested in golf is certainly there. Is it working? Yes, but to an extent.
If you watched this event, or any others in Saudi Arabia for that matter, you'll notice that the crowds aren't big. That's undeniable. When we followed World No.1 Lilia Vu in her first round, you could count the number of spectators on your hands.
But, golf is becoming increasingly popular to play. Riyadh Golf Club has a healthy membership, with over 50% of those Saudi Arabian nationals, many of them taking up golf recently.
For lots of them, it's their first introduction to any sport at all, as it's not something that is traditionally taught in schools. For a course to learn the game at, Riyadh is pretty spectacular.
Final thoughts
As we left Saudi Arabia, I couldn't help but think how eye-opening the trip had been.
No matter what you think of the strides the country is making the game, there's no denying that for those who want to play golf in the Middle East, those opportunities are only going to grow. And grow quickly.
That can only be a positive thing.
---
More Reads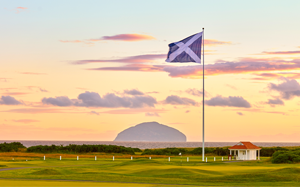 The bunkered Golf Course Guide - Scotland
Now, with bunkered, you can discover the golf courses Scotland has to offer. Trust us, you will not be disappointed.
Find Courses
Latest podcast
Rory McIlroy's resignation and making sense of the WHS