Sign up for our daily newsletter
Want latest news, reviews, analysis, deals, and events, and offers from our commercial partners? We've got you.
Events of the next 72 hours may render what follows foolish or, at best, premature through the lens of some observers. But since they are also unlikely to change my mind, here it is.
The Great Britain & Ireland Walker Cup team should be expanded to include players from continental Europe.
Cue gasps, pearl-clutching and the usual suspects falling out of the same armchair they've occupied since The Good Old Days™.
"You can't mess with tradition," they splutter. Which is nonsense, of course. You absolutely can 'mess with tradition' and there's plenty of precedent for doing so. What these people really mean is that they'd rather you didn't change the thing they like because change is painful, change is hard, change is scary, and that's all true. But in some instances, change is also necessary, and this is one of those.
The Walker Cup is a marvellous event. Older than the Ryder Cup. Older than The Masters. Older than just about any human being currently navigating this mortal coil. In order for it to remain a marvellous event, it needs to evolve.
Of the 48 editions played to date, the United States has won 38 compared to Great Britain and Ireland's nine. One match, the 1965 clash at Baltimore Country Club between Johnny Fischer's Americans and a GB&I side skippered by Joe Carr, finished in a tie. Excuse me, sorry. It was halved.
Entering this week, the US has won seven of the last nine matches by a combined 137½-92½ score. The smart money (at least, as 'smart' as money can ever be in the wonderfully capricious world of matchplay golf) is on Mike McCoy's men extending that streak on the Old Course.
If they do, expect many more columns like this one first thing on Monday morning calling for the inclusion of Euros. However, I'm getting in there first, lest this be confused with a knee-jerk reaction. My argument is less about change to maintain the competitive integrity of the match – albeit that helps – and more about preserving its relevance.
Frankly, there are no guarantees that allowing Swedes, Italians, Germans, Spaniards and the like would make the match closer on a more consistent basis. The results of Ryder Cups played since a similar change was implemented in 1979 would suggest it might, but there are a myriad of factors that determine the outcome of any multi-day matchplay golf event. Pan-continental representation is just one of those.
Rather, the bigger issue is that what was once seen as the pinnacle of amateur golf is tumbling down the 'bucket lists' of young golfers. As recently as 2007, Rory McIlroy delayed turning professional after his low amateur heroics at the Open Championship at Carnoustie in favour of a Walker Cup swan-song at Royal County Down.
In a 2016 edition of The Players Tribune, he reflected: "I was seen as a leader of our all British and Irish team. That was quite an honour."
It's an honour that is being undercut by the appeal of the obscene amounts of money pouring into the game. James Piot might have featured for the US this year had he not been spirited away to the paid ranks, so too English 17-year-old Frank Kennedy, who turned pro in June.
Can you blame them? When the PGA Tour is flaunting $20million tournaments, the DP World Tour is parading a 2024 schedule with a record £117million to be won, and LIV Golf is approaching players with blank cheques, what impatient kid with tons of talent and every bit as much still to learn wouldn't be tempted?
The Walker Cup is in danger of becoming collateral damage in the madcap, cash-grab world of men's professional golf. Sure, it's nice to play in. But do you what most young guys think is even nicer? Having millions and millions of dollars. Who wants to pay homage to the game when you can pay for a Rolex?
So, that's part of it. Another part of it is that other amateur events are steadily gaining ground on the Walker Cup in terms of importance. The World Amateur Team Championship, the NCAA Championship (Turk Pettit turned pro after winning it two years ago, passing up a likely Walker Cup berth), and even the Palmer Cup – all are valued much more highly by a significant proportion of players than they were just 20 years ago.
Expanding the GB&I team to include continental Europeans would create more buzz, expand the perimeter of interest in the contest and, yes, result in a higher proportion of the top players taking part.
The worst ranked American at St Andrews this week is 19th on the WAGR. Only one of the GB&I side, world No.14 Barclay Brown, is better off. At 214th on the WAGR, young Connor Graham – a legitimately exciting prospect – is the lowest ranked of the home side. You have to go past 35 continentals, representing 14 different countries including the Czech Republic, Poland, Austria and Estonia, before you get to him.
Spun differently, the average ranking of the GB&I side is 88.6. For the US, it's 8.2. Again, that's not to say GB&I can't or won't win. They may do. But that's not the point. The point is that most fans want to watch the best players and, demonstrably, Great Britain & Ireland is no longer producing as many of those as they once were. And like it not, that diminishes the match as a contest.
It's a shame. The Walker Cup is fantastic fun. But it could, and should, be so much more than it has become.
So, what's it to be: manage the event's decline out of misplaced fealty to the past; or be the agents of change, painful but necessary change, in order to secure its purpose and place in the future of the game?
That's both the question and the challenge.
We shall see.
---
More Reads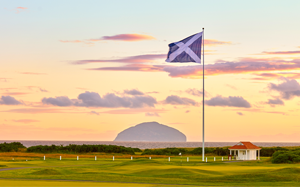 The bunkered Golf Course Guide - Scotland
Now, with bunkered, you can discover the golf courses Scotland has to offer. Trust us, you will not be disappointed.
Find Courses
Latest podcast
Rory McIlroy's resignation and making sense of the WHS