Sign up for our daily newsletter
Want latest news, reviews, analysis, deals, and events, and offers from our commercial partners? We've got you.
"I'm ready to rock and roll!" It's the kind of introduction we've come to expect from Sir Nick Faldo over the years.
The Englishman hosts the British Masters for the first time at The Belfry this week, a job to which he has committed until at least 2026. He's excited to get going – and it shows as he shuffles back and forth in the large armchair upholstered in the Union Flag that has become synonymous with this tournament and flits from one topic to another without really coming up for air.
"I'm honoured to be in this position," he tells a handful of reporters at the Warwickshire venue. "I'm looking forward to a nice stretch over the next five years or more, it gives [me] a chance to be more involved and do some things, and the goal is to have an impact on this event and do the best I can to help raise it in different areas.
The 65-year-old has a bit more time on his hands, having quit his full-time commentary gig in order to spend more time with his wife Lindsay on their farm in Montana.
"I've done that long enough now," he says, explaining how flying to and from tournaments every week was taking it out of him. "You want some rest, to do some other things, and I have a [course] design business I'm very keen on as a third career.
"TV was a great gig but it did lock you from January to September. And Montana is special to us. We love the outdoors, the lifestyle. I want to be resting and fishing. I love fishing! I've been on the road since I was 18. It was time for a breather, time for something new."
• Eddie Pepperell: Home support vital for DP World Tour
• Justin Rose: British Masters win was my most emotional
And he couldn't be happier about The Belfry being involved for his stint as host. A venue, he says, "is an instantly recognisable name on both sides of the Atlantic", and one at which he has "good and bad memories" from the three Ryder Cups he played here.
Faldo starts drifting off as he reminisces. "There was '85 when I'd just started with my new swing," he begins, recalling the only Ryder Cup in which he returned zero points.
"In '89, with Woosie, after a very successful '87," he says with a smile, remembering his potent partnership with Ian Woosnam.
"Then," he sighs, "there was '93." That remains the last time the Americans won on European soil.
Faldo adds he is "in serious talks" with The Belfry about some modifications to the course. "It's time for a refresh," he explains. "All those saplings we were stuck behind at the Ryder Cup, now they're everywhere! So it needs a bit of a clear-out, a little bit of fresh air in there, because the game has changed. It will be nice to do a little work to keep the challenge up for these guys."
Speaking of the current crop of DP World Tour stars, Faldo isn't quite as concerned as others – including Justin Rose and Eddie Pepperell – about the field.
Rose believes the top players will come as the DP World Tour sees the benefit of the so-called merger with Saudi Arabia's Public Investment Fund, while Pepperell wasn't shy to let his feelings known about the – especially English – no-shows.
"There's 45 events," Faldo shrugs. "The guys are going to pick their 22 to 25, so everybody is looking at their schedule, where they are coming from, where they are flying to, where they are playing next."
• Rory McIlroy and Sergio Garcia end feud
• Tour pro slams authorities over 'fake' slow play battle
Talking of schedules, a shorter season was a huge factor in many of the LIV Golf players' decision to defect. And it's the mere mention of the breakaway league that gets the six-time major champion most animated. Asked about whether he sees a future for the 54-hole team format, headed by his old foe Greg Norman, Faldo didn't hold back.
"I don't think so, because nobody's really interested," he says. "They're not going to get the sponsorship they want. They call it a team [event] and it's not because it's stroke play.
"You see your mates on the putting green and say, 'Play well.' Then you see them in the scorers' tent and say, 'What did you shoot?' That's it. A team is out there helping, shoulder to shoulder. That's a true team.
"You have the ultimate team event, the Ryder Cup, you know the passion and the atmosphere of that. They're not playing with the same passion and atmosphere as the Ryder Cup. It's only half a dozen [players] that are really current, half of the field I don't really know, and half the field are there for the very nice last-placed money that you still get if you shoot 20-over."
But Faldo is apprehensive about a unified sport in the 'NewCo' era that has seen the PGA Tour, DP World Tour and PIF sign a deal.
"That's impossible," he says. "I think the bodies have the best interest in trying to create a global [sport], and if they are truly on board, with a bottomless pit of money, they should be able to make the call.
"I was one of the few guys who really did genuinely play a world tour back in the day. Seve [Ballesteros], [Nick] Price, Greg [Norman] did, we went everywhere, all four corners of the world. I would love to see that.
"When the dust settles, whether it takes six months, a year, whatever, my goodness pro golf is in an overall better position financially than we were back in the day."
Whether you agree with his views or not, life is never dull when Mr Faldo's in town.
---
More Reads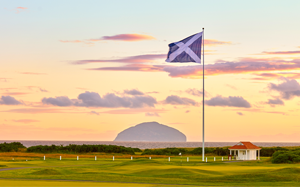 The bunkered Golf Course Guide - Scotland
Now, with bunkered, you can discover the golf courses Scotland has to offer. Trust us, you will not be disappointed.
Find Courses
Latest podcast
Rory McIlroy's resignation and making sense of the WHS