Sign up for our daily newsletter
Want latest news, reviews, analysis, deals, and events, and offers from our commercial partners? We've got you.
Rory McIlroy reiterated his "hate" for LIV Golf, but insists the shock merger between the PGA Tour, DP World Tour and the Saudi Public Investment Fund will benefit the long-term future of the men's professional game.
McIlroy was for a long period the unofficial spokesperson for the PGA Tour during golf's great schism, but he has now been forced to re-evaluate his stance and says he has come to terms with the fact that he will be soon be playing under the Saudi Arabian umbrella.
The Northern Irishman admitted in a hotly-anticipated Toronto press conference on Wednesday that "money talks" and the future of the PGA Tour ultimately looks brighter with the huge financial backing of PIF.
• Jay Monahan facing calls to resign
• Five takeaways from shocking merger statement
He also still has confidence in under-fire PGA Tour commissioner Jay Monahan, despite admitting he feels like a "sacrificial lamb" after the American circuit dramatically caved following months of vehement opposition against the disruptive Saudi emergence into golf.
"I think ultimately when I look at the bigger picture, ten years down the line, this is going to be good for the game of professional golf," McIlroy said.
"I think the one thing that I think was really misconstrued yesterday was all of the headlines were 'PGA Tour merges with LIV'.
"LIV has nothing to do with this. It's the PGA Tour, the DP World Tour and the Public Investment Fund who are basically partnering to create a new company.
"I think that's where I was a little frustrated. Because all I've wanted to do and all I've wanted in the past year is to protect the future of the PGA Tour and protect the aspirational nature of what the PGA Tour stands for. And I hope that this does that.
"This new company sits above everything and Jay Monahan is the CEO of that, so technically, anyone that is involved with LIV would answer to Jay.
"Whether you like it or not the PIF are going to keep spending money in golf… at least the PGA Tour now controls how that money is spent.
"One of the biggest sovereign wealth funds in the world, would you rather have them as a partner or an enemy?
"At the end of the day, money talks and you'd rather have them as a partner."
McIlroy was also keen to stress that the extraordinary deal was not made between the PGA Tour and LIV, but rather the two established circuits and the PIF.
He added: "It's not LIV. I still hate LIV, Like I *hate* LIV. I hope it goes away and fully expect that it does. This is the DP – PGA TOUR and the PIF."
The sensational truce has also brought an end to all litigation between warring factions, meaning the LIV renegades who jumped ship for huge sums can soon return and compete on the PGA Tour.
• Rory McIlroy told to 'f***' off in PGA Tour meeting
• DPWT chief Keith Pelley reacts to tours' merger
But McIlroy is adamant there must be punishments for the LIV players who caused "irreparable damage" to the American circuit with their defection to the Saudi-based league, before their reintroduction to a main tour.
When asked if players who stayed loyal to the PGA tour should be made "whole financially" Mcllroy replied: "I mean, the simple answer is yes. The complex answer is how does that happen? That's all a grey area, up in the air at the minute.
"It's hard for me to not sit up here and feel somewhat like a sacrificial lamb. I'm feeling like I've put myself out there and this is what happens.
"I've dealt with Jay a lot closer than a lot of those guys have and from where we were a couple of weeks ago to where we are today, I think the future of the PGA Tour looks brighter.
"What that looks like for individual players in terms of keeping a tour card, and bringing players back into the fold and then that, which sacrifices other people – that's that's where the anger comes from.
"I understand that and there still has to be consequences to actions. The people that left the PGA Tour irreparably harmed this tour and started litigation against it. We can't just welcome them back in, that's not going to happen.
"And I think that was the one thing that Jay was trying to get across yesterday is, 'Guys, we're not just going to bring these guys back in and pretend like nothing's happened'. I do have confidence in him."
---
More Reads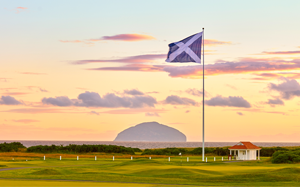 The bunkered Golf Course Guide - Scotland
Now, with bunkered, you can discover the golf courses Scotland has to offer. Trust us, you will not be disappointed.
Find Courses
Latest podcast
Rory McIlroy's resignation and making sense of the WHS