Sign up for our daily newsletter
Want latest news, reviews, analysis, deals, and events, and offers from our commercial partners? We've got you.
I'm not going to lie.
It's been a long week – a great week but, yes, a long week – and I have thoughts on what we saw at Marco Simone.
Lots and lots of thoughts.
But rather than attempt to shape any of them into a column, op-ed, blog or whatever we're meant to call them these days, here they all are, unvarnished and fresh off the top of my head and into yours…
—
1. So, what are we calling this thing, then? The 'Romp in Rome'? Rout? Rollicking? Rampage? Redemption? Rollercoaster? Grab a dictionary, go to 'R' and give me your best suggestions.
2. Emperor Luke deserves another shot in the saddle. All of this "taking turns" is, and has long been, a nonsense. The Ryder Cup captaincy shouldn't be given to the most deserving candidate; it should be given to the best candidate. Not even Henrik Stenson could deny that Donald has proven himself to be the latter. If it ain't broke, no?
3. I absolutely guarantee you that Luke orders in Italian when he and the family go out for pizza. If I could speak it that well, I would, too.
4. There's only one man the US can turn to now. First name, Tiger. Second name, Woods. Give him the captaincy for Bethpage AND Adare Manor (which is owned by his good friend JP McManus). Because why not?
5. How good is Viktor Hovland? I bet he doesn't read books, you know. I bet he just stares them down until he gets the information he wants.
6. Rory McIlroy does read books. Or rather the meditations of Marcus Aurelius. "I've studied Stoicism for a while," said the least stoic man in Rome on Saturday night. Gotta love him, though. Rory reckons he's on the "back nine" of his Ryder Cup career. Justin Rose will, I'm sure, hold his beer.
• OPINION: This one is on Zach Johnson… here's why
• Ryder Cup: Every European player rated
• Ryder Cup: Every US player rated
7. Jon Rahm might be the classiest man ever to pick up a golf club. On the course, he wants to make you cry. Off the course, he's full of charisma and charm, humility and grace. He's just brilliant.
8. Did anybody miss Adrian Meronk? Admit it, this is the first you've thought of his since Thursday, isn't it?
9. A lot of armchair experts predicted a long week for Bob MacIntyre. Some suggested we wouldn't see him until Sunday. Others, that he'd be lucky to play more than twice. One outlet even ranked him 24th out of the 24 players in Rome. Three rounds and two-and-a-half points later, he's ended his first Ryder Cup as one of only three players – alongside Jon Rahm and Tyrrell Hatton – not to lose a match this week and having fed his critics a big, deep-fried dish of humble pizza pie.
10. The whole Rory McIlroy / Joe LaCava kerfuffle (that's a funny word). LaCava was completely out of line. No doubt. It's also true that Rory could have reacted differently. But passion is good. Passion is healthy. Passion is why 50,000 people turned up to Marco Simone every week. So, imagine the people inside the ropes didn't care. What would that have said about the Ryder Cup? The whole episode added an extra wrinkle of drama to an event that specialises in the stuff. And that's no bad thing.
11. There's a difference between friendship and camaraderie. The US has friendships: Thomas and Spieth; Scheffler and Burns; Cantlay and Schauffele. On Team Europe, everybody likes everybody. (And if they don't, they fake it magnificently.)
12. Is the Presidents Cup harming the USA's Ryder Cup juju? Rory McIlroy had two years to stew on the 'Walloping in Wisconsin' and bolted out of the gate this week like a greyhound on Red Bull. The United States, though, get to 'make amends' just 12 months later.
13. If they insist on persevering with the Presidents Cup, they should create a new Seve Trophy-style competition which exists purely to blood new, up-and-coming players. Basically, nobody who has played in the Ryder or Presidents Cups or is inside the world's top-50 is eligible to play. They could make it a whole East Coast versus West Coast thing and call it The Tupac-Biggie Cup.
When in Rome 🏆#TeamEurope | #RyderCup pic.twitter.com/xkRJQD5QTw

— Ryder Cup Europe (@RyderCupEurope) October 1, 2023
14. The US Task Force should get in touch with the Roslin Institute at the University of Edinburgh – 'creators' of Dolly the sheep – and inquire about cloning Justin Thomas. How was this guy ever a controversial pick. If the US had 12 Justin Thomases, they'd never lose.
15. Considering how much of a made-for-TV production the Ryder Cup has become, it's surprising that organisers have missed a huge opportunity with the Sunday singles draw. Rather than make it private, why not make it live on air, with each captain announcing each player in turn and getting, say, 30 seconds to respond to their opponent's choice. Kind of like a draft, basically.
16. I owe the 'Guardians of the Ryder Cup' an apology, and a sincere one at that. Rather than hold the first tee hostage as they battered through their toe-curling songbook – as they've done in the past – they contributed to, rather than hijacked, the occasion. They're also genuinely lovely fellas. If every golf fan loved the Ryder Cup as much as they do, the event would be exponentially better than it already is.
17. Beyond the 'Guardians', fans on the first tee demonstrated a magnificent degree of creativity with their song choices. "Sacked in the morning! You're getting sacked in the morning!", performed to the tune of Guantamera and chanted in the direction of US captain Zach Johnson, was the football-golf crossover we didn't know we needed.
• Veni, Vidi, Vici! Europe wins Ryder Cup in Rome
18. 'Sweet Caroline', however, can get in the sea. It was piss-awful to begin with and you have to think even Neil Diamond is getting fed up of it.
19. Sam Burns giving it the big 'un on Saturday afternoon after holing a two-footer was a particularly weird flex. Nice mullet, though.
20. No, players should not be paid for playing in the Ryder Cup – although given how preposterously corporate the event has become, I totally understand their grievance. On more than one occasion, I witnessed marshalls moving people out of the way… because they were standing in front of sponsors' branding. If the people running the event are rinsing Samuel Ryder's concept for every last Euro, why shouldn't the players get a bit of that?
21. Baseball caps are massively overrated anyway.
22. The spirit of Seve Ballesteros continues to loom large over the the Ryder Cup. One American broadcaster, who shall remain nameless, was heard asking how much longer "we'll have to put up with this". Aside from being uncharitable, it's a pretty ignorant sentiment. Without Seve, the Ryder Cup wouldn't be the spectacle and the event it is today. It's called influence and the swashbuckling Spaniard wielded it like a conductor's baton. We still talk about Old Tom Morris, and quite rightly, because of the indelible mark he left on the game. The same logic applies here, one of the few occasions where "gone but never forgotten" is not pithy, half-hearted lip-service.
Wait for it… 🇪🇺 pic.twitter.com/SyXzbDRQPU

— bunkered (@BunkeredOnline) September 30, 2023
23. Speaking of Seve, how good was that tifo on the first tee on Saturday morning? More of that, please.
24. Semi-related: Nessun Dorma reaching its distinctive crescendo on a golf course as the sun comes up behind the hills beyond will make your hairs stand on end and may well reduce you to tears. Simply stunning.
25. Weirdest question of the week, as posed to Brian Harman: "Do you have a favourite tree?" He does. The swamp chestnut, apparently.
26. Rickie Fowler was also asked if he has ever pole-vaulted in his garden. He has not.
27. There was not one – not one – mention of ping-pong the entire week. Somebody, quick! Check the thermostat in Hell!
28. Do you know why they call it a fleece? Because Ralph Lauren can put his logo on it, along with some elaborate Ryder Cup doodle, and charge folk €349.
29. I wonder what Patrick Reed got up to this week.
• Cantlay & LaCava: The pantomime double act we needed this week
30. Correction: I wonder what Sergio Garcia got up to this week.
31. Actually, sod that. I wonder what Anthony Kim got up to this week. Marco Simone could have – maybe should have – been his eighth Ryder Cup. Alas, he's forever stuck on one. Or as they say around here, uno.
32. And what of the fans? For the most part, excellent. But let's not pretend they were perfect. We (in Europe) are quick to criticise them when the Ryder Cup is played on the other side of the Pond, so we need to be every bit as honest and willing to call out the wrong 'uns over here. So here it is: booing is classless – yes, it is – and it's also massively counter-productive. It's just another thing for the opposition to unite against. Better to treat them with utter silence.
33. Bethpage in two years' time is going to be absolute carnage.
34. Of the 104 weeks that make up a two-year period, Ryder Cup week is definitely in the top one.
35. This deserves more than 48 seconds on Sports Personality of the Year.
36. What's the Italian for "kerfuffle"?
---
More Reads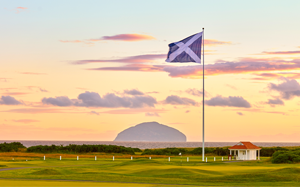 The bunkered Golf Course Guide - Scotland
Now, with bunkered, you can discover the golf courses Scotland has to offer. Trust us, you will not be disappointed.
Find Courses
Latest podcast
Rory McIlroy's resignation and making sense of the WHS