Sign up for our daily newsletter
Want latest news, reviews, analysis, deals, and events, and offers from our commercial partners? We've got you.
Reports of LIV Golf's death have been greatly exaggerated.
Granted, Gary Davidson, the Saudi-funded golf league's interim COO, didn't channel Mark Twain word for word but that was certainly the over-arching sentiment.
Davidson, who took over following the shock departure of Atul Khosla towards the end of last year, has been an integral figure in the development of the circuit, from concept to creation.
Who better, then, to shed some light on the present and future of the controversial league, particularly following the news hat LIV's bank-roller, the Public Investment Fun of Saudi Arabia, intends to merge commercial operations with the PGA Tour and DP World Tour.
Since that story broke on June 6, rumours have been rife that this ceasefire will result in LIV Golf ceasing to exist. There has also been speculation over the future of its CEO and commissioner Greg Norman, as well as its ambitious plans for expansion.
For the most part, LIV officials have kept schtum on it all – until now.
Speaking exclusively to bunkered.co.uk at Fairmont St Andrews – scene of this week's Asian Tour International Series event – Davidson outlined LIV's version of events.
Finished? Far from it, apparently…
—
It's the question everybody has been asking since the PGA Tour, PIF and DP World Tour made their big announcement in June – does this spell the end of LIV?
Absolutely not from our point of view. It's business as usual. Right now, we're planning for the 2024 season. We've got multi-year agreements with players, with venues, with partners, with suppliers. Yeah, business as usual.
You can surely understand the doubt, though, particularly given that the PGA Tour and DP World Tour have both announced their schedules for 2024. There's not exactly much room in the calendar for a third tour…
But there never has been. The LIV schedule is 14 events with ten International Series events that obviously feed into that, and we're very close to finalising what our schedule will look like for next year. We don't have any control over what anybody else's schedule looks like.
Really? Even with the new Framework Agreement, you don't get to input into that?
I don't, no.
Does anybody at LIV?
Look, the Framework Agreement is, I think, an agreement to come to an agreement. There's a lot of details to be worked out and, obviously, it's public now, so everybody's got the same information. And yeah, there isn't a lot of detail in that, but I'll leave it to other people to work out exactly how that all pieces together.
How complete is the LIV schedule for next year, percentage-wise?
I'd say ninety-five.
Any new venues?
Yes, a couple of new venues.
Any in Scotland?
Look, we…
Turnberry, specifically. I mean, it's off the Open rota and you've had events at other Trump properties.
We'll not be at Turnberry next year, no.
But Scotland's not off the table?
Nowhere's off the table. Back in April this year, we launched a host venue bid program and that was always the plan. We're 14 events, so we've got a finite number we can take to market. We always thought that there would be a split of ten in the US and four internationally. We also always thought that, in time, it would become more international. We've kept a pretty open mind about it, to be honest. The host venue bid program was launched off the back of Adelaide and Singapore and went to 96 different bodies, and we had a number of expressions of interests.
'A number of'? How many are we talking?
I think we had 50 follow-up conversations and then we got into the weeds of what that all looks like with, certainly, double figures.
What about players? Will there be any new faces next year?
Well, we're going to lose a number of guys to relegation, that's a given. There's going to be a very clear, open and fair merit-based opportunity for players to either earn their way back or fill those places. We've always said it's a minimum of four players that'll change, and relegation guarantees that. As it relates to the 'open zone' – players that finish between 25th and 44th on the standings – whether or not they'll stay on comes down partly to their teams and partly to what their commitment to the league might be, but we expect that there'll be some trades and that there'll be other players who come in to replace them. So, in short, the top-24 will definitely stay but we do expect that there'll be more player movement from 25 and down.
Where are you with LIV's application to the Official World Golf Ranking? It seems to have gone awfully quiet.
We're continuing to cooperate with them. There's been open communication. We have always known that we don't fit exactly into what they would like to see but it's also been very clear from the start that if you meet all of the eligibility, you might not get points, and if you meet none of the criteria, you might. And, by the way, those criteria are subject to change at any time. So, you're kind of swinging in the dark with it.
The ultimate question that we always come back to is that the OWGR has one objective, and that is to fairly and accurately rank the best players in the world when they compete. Is that what it's doing just now? Of course it's not. As an example, Bryson [DeChambeau] won at Greenbrier. He shot 61, 58 over the weekend. His weekend stroke average was 59.5. But he dropped in the world rankings. It's just not credible. We want to work with them to help make sure that their rankings can be fair and accurate. We've provided our data and our stats every week. Ultimately, it's now for other people to decide where or how that exactly fits in.
Speaking of things fitting in, where does the Asian Tour slot in to the big picture these days?
The Asian Tour was the first investment we made from LIV Golf Investments and we're in only the second year of a minimum ten-year agreement with them that was announced at the beginning of 2022. This year has been a great one for us because it's the first time that the full meaning of the International Series has really come to life. We've got a full schedule of ten events. There's obviously the integration of some of the LIV guys coming to play a few events, like this week, for example. There are 16 LIV Golf players in the field at St Andrews.
We're going to host our promotions event at the beginning of December and we'll announce a venue for that in the coming weeks, and that'll be open to a real broad exemption criteria. Players from the world rankings, leading amateurs, winners of tour events, the leading 31 players from the International Series, players who get relegated from LIV. That coming to life and being fully operational this year is the first time that's happened. So, that completes the circle with the Asian Tour.
Andy Ogletree is looking good for automatic promotion to LIV, isn't he?
He's a man on fire, and good on him. He had a taste of LIV to begin with. He's then gone back to earn his way, effectively, and to some extent prove it, and he's absolutely proving it. So he's a brilliant case study for that pathway being open, available and working.
There's a deadline of January 1, 2024, to turn the Framework Agreement into something more robust. How realistic is that?
You'd have to ask the people in the room for that one. That's the date on the piece of paper that we've all seen but we're fully focused on our 14 events, 12 teams and 48 players.
Have you noticed an improvement in relations with other tours since the announcement in June?
Again, it's a really dull answer but we're just focussing on our lane and that's our events, our teams and our players. We've got a lot going on in our own world with planning for next year, getting ready for promotion and relegation, and player transfers and lots of other things. We're not too – certainly I'm not, in my day to day just now, too focussed on anything else just now.
What about Greg Norman's position? There seems to be a role for Jay Monahan in the Newco. So, too, Yasir Al-Rumayyan. But Greg's name has been conspicuous by its absence lately…
Greg's the chief executive and commissioner of LIV Golf, and that's not going to change as far as we're aware or have been told.
How do you characterise the mood around LIV just now? Is everything rosy in the garden or is there work to do? Is there still stuff to be planted, so to speak.
I think there's always stuff to be planted. I love that people get ahead of us on some of this. They always set us the bar of 'where are you compared to X, Y and Z' and that's brilliant. I take that as such a compliment. The reality is that we're currently only at 20-30% of where we want to get to.
As little as that?
Yeah.
Really?
Yeah. Don't forget, we're only 15 months old. We still haven't run a full season.
But you've had significantly greater resources than any other golf start-up I can think of.
For sure, but I'd also say that we've made more progress than any other golf start-up in, arguably, the history of the game. LIV's had a pretty significant impact on almost every part of the game. On sponsorship, on schedules, on broadcast, on player rights, on commercial rights, on player pathways…
On mood, on atmosphere…
On coverage, on how busy you guys are, on lots of things. And that's got to be a good thing. Golf's never before been spoken about or been positioned in the light that it has over the last 18 months and that, I think, is really positive. But there's a huge amount more to do. One of the biggest visual changes this year is that some of the teams are now in complete uniform and look like a proper team. When you look back at some of the pictures from last year, that's a really big change. We're only 11 events in this year and that's already become quite normalised, which is brilliant. We're now seeing sponsors going on to the teams and that's great. But not all of the teams are in uniform. Not all of the teams have reached commercial maturity. We knew that wouldn't happen in season two, three or four.
And the events, yes, we've got some event sponsors and, yes, we've got some league sponsors but again, there's a huge amount that we've got left to do there. We're still building out a lot of our product offering. We've launched our fantasy game. We've launched our OTT streaming app. We're just in the final stages of testing our broader live event app. We've launched e-commerce. There's lots that's happening but there's a huge amount that's still to be done.
I mean, we're working towards a future where teams have home venues and home events. You then get that onto courses that the team captain has designed and which is built around their strategy of play. Imagine what Bryson's home course would look like compared to, say, Bubba Watson's? We'll build those out with the infrastructure built-in to accommodate 50-60,000 people per day with par-3s that are stadium built, and all of this is tied in to the captain's academy and community initiatives, and he's got his corporate headquarters there, too. All of that stuff we haven't even really started on yet. So, all of our big picture stuff is very much in its infancy. We're still just scratching the surface with a lot of it. There's a huge amount that we can still do.
What about a return on the investment? I appreciate it's still early days but are you starting to see any kind of money coming back in?
It's trending in a really strong direction if you look at things like our ticket sales and our hospitality sales. We broke a record in Adelaide, we broke a record in Tulsa, we broke a record in Greenbrier. E-commerce is the same. It's all evolving very quickly. And yeah, honestly, there was a change following the news in June, too. There were a number of phone calls that came in off the back of that announcement. We then held our up-fronts in New York a month ago where we invited 140 different companies, which was great.
There's a much better proof of concept now than there was 12 months ago and we've got the likes of Tulsa, Greenbrier Adelaide and Singapore to show people, so it's trending in the right direction and evolving as we hoped it would.
You've got 14 teams just now. Could you accommodate another?
We could, yes.
Would you consider it?
Yes. We could probably accommodate another three. There's a couple of different ways to look at it but the number of players has to be divisible by both three and four. Adding three teams would be the most logical but there's other routes we could take if we only added, say, one or two. But we've always known that was a possibility. Put it this way, we can get to 15 teams of four and not jeopardise the shotgun start. That's 20 three-balls. Beyond that, it gets a bit more difficult. But going up to 15 teams was something we spoke about two-and-a-half years ago. We've always been open-minded about that.
It's funny, promotion and relegation was positioned this year as something new – but it was written into our blueprint on day five. It maybe just wasn't a story that cut through initially. But to the original point about adding another team, you want to leave room for it to evolve, grow and develop, and we know we've got that. We're in a good place.
---
More Reads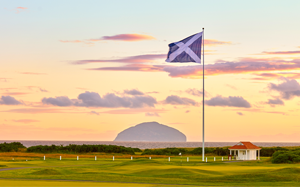 The bunkered Golf Course Guide - Scotland
Now, with bunkered, you can discover the golf courses Scotland has to offer. Trust us, you will not be disappointed.
Find Courses
Latest podcast
Rory McIlroy's resignation and making sense of the WHS