Sign up for our daily newsletter
Want latest news, reviews, analysis, deals, and events, and offers from our commercial partners? We've got you.
Everybody loves a bad guy, don't they?
It's 'The Joker' effect. Whilst Batman was honourable and principled, his malevolent nemesis was always weirdly irresistible and, in a way, far more compelling than Bruce Wayne's vigilante alter-ego.
There are parallels in sport. Nice guys of strong moral substance and immense talent are admirable, no doubt. But talented guys with a 'side' to them? They're something different – they're captivating.
The walls of sporting history are festooned with portraits of such men, men whose names have endured long after their careers have ended. From George Best, to Diego Maradona, to John McEnroe, to Eric Cantona, to Gazza, to James Hunt, to Joe Namath, to Wilt Chamberlain – the list of 'bad boy' sports stars is long and distinguished.
That's not to mention snooker's Alex 'Hurricane' Higgins, below, a consumate genius if not a consumate professional.
There are even those who say Tiger Woods became infinitely more interesting when his 'family man' image was obliterated by that sex scandal.
I mention all of this at the end of another week in which Nick Kyrgios has been in the news. The 22-year-old Australian tennis player once again raised questions over his future in the sport by declaring that he is 'not dedicated to the game at all' after a first round exit from the US Open.
He said: "There are players out there that are more dedicated, that want to get better, that strive to get better every day, the one-percenters. I'm not that guy."
Such candour is nothing new. Kyrgios has previous, and lots of it, when it comes to shooting from the hip. There is a lengthy section on his Wikipedia page devoted to the various controversies that have stained his CV since he turned pro in 2012.
From tanking matches – he confessed earlier this year he reckons he has purposefully lost at least eight times in his career because he'd 'rather be doing something else than play tennis' – to making disparaging comments about his opponents and even taking a phone call mid-match, his behaviour has been regularly (and rightly) called into question.
The trouble is that he's a fantastic player. Fabulously gifted. Outrageously so. It's a terrible cliché but he has all the shots. You can't fluke your way to No.13 in the world, and certainly not in an era when the talent in men's tennis has arguably never been so deep.
All of which makes him utterly fascinating. When he plays, people watch. It's the not knowing what you'll get – the sublime or the ridiculous – that has made Kyrgios an unorthodox box office attraction, a headline-maker of the most peculiar and perverse order.
He has a higher profile many players far better and more committed to
the game than he is (if you can name the guy pictured above, I'll be seriously impressed*) but he
is stealing their places in the hearts and minds of the public by the
sheer force of his personality – the good bits but, especially so, the
bad.
He's making people who don't usually cover tennis write about it.
He's making people who don't usually take an interest in tennis watch it.
He is, seemingly unintentionally, doing something a whole cast of marketing professionals can't do.
He's getting himself and his sport noticed.
And I'm watching all of this unfold, slam after slam, wondering why he couldn't have picked up a golf club before a tennis racket.
Nice guys might not finish last at the Masters, the US Open, Open or
PGA – but in a world that now expects multiple narratives for every
event and occasion, they're floundering in the battle for more widespread attention.
Like
it or not, that's a battle golf needs to be contesting. It's one that
can help shift and dispel lingering misconceptions about the sport; one
that can bring it to new audiences, like Kyrgios has done for tennis and
Higgins did for snooker; one that can make it relevant, interesting
and, more importantly, better positioned to remain so.
It's a battle that is being waged on the front and back pages of
newspapers, and at the beginning and end of news bulletins, across the
country and around the world every day. All the while, golf continues to
struggle for 'mainstream' coverage.
Let's be honest, the PGA Tour is lucky. It's populated by an abundance of magnificently gifted sportsmen, who behave and train like the athletes they are.
They also, for the most part, happen to be exceptionally nice young men. Even if they're absolute scoundrels away from the course, that's their professional reputation.
Nothing wrong with that. If you had a son, you'd want him to grow up to be as estimable as the likes of Rory, Jordan, Jason and Rickie. If you had a daughter, you'd be delighted if she brought one of them home.
That being said, the line separating golf and entertainment has never been finer than it is now. It's no longer enough to be merely exceptional in your field. You now need to be entertaining with it. To that point, is it too much to say that golf now needs its own Kyrgios? That it needs an anti-hero for an audience fatigued by an over-supply of caped crusaders?
At the crux of it all is this one truth: humans like other humans. Ordinary people love to see extraordinary people with an ordinary streak. They embrace flawed geniuses because nothing is so relatable as the ability to get it wrong from time to time. It ignites our natural, in-built empathy. Look at the continued popularity of John Daly, above, by way of proof. Ninety-nine per cent of the population will never be able to hit a golf ball like he can. But make the same mistakes and bad decisions as he has? We can all do that.
Golf shouldn't be afraid of an anti-hero walking in its midst. Truth be told, I've always found its obsession with etiquette, perfection and everything being 'just so' a little odd when the margins for error are arguably higher and greater in number than in any other sport.
Equally, I'm not suggesting we actively encourage bad behaviour. The best of the worst have always been case studies in nature over nurture. When the right 'wrong 'un' comes along, we'll know. And part of me can't wait.
After all, isn't a pantomime without a villain just a mediocre musical?
* It's Benoit Paire, by the way.
---
More Reads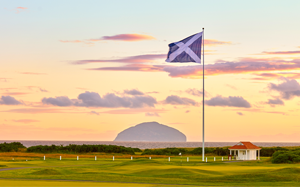 The bunkered Golf Course Guide - Scotland
Now, with bunkered, you can discover the golf courses Scotland has to offer. Trust us, you will not be disappointed.
Find Courses
Latest podcast
Rory McIlroy's resignation and making sense of the WHS