Sign up for our daily newsletter
Want latest news, reviews, analysis, deals, and events, and offers from our commercial partners? We've got you.
If you're planning a golf trip, there's a good chance the Algarve will feature very highly on your list of possible destinations.
And thanks to award-winning golf travel agency Tee Times, there are plenty of fantastic options when it comes to accommodation.
Recognised earlier this year for its "outstanding service" to the industry, the firm was rated "excellent" in six categories.
Now approaching three decades in the business, Tee Times offers a range of different hotels for whatever your needs.
Take a look at some of the best below…
Vidamar Algarve Resort
Located in a quiet area of the charming town of Albufeira and with an amazing view of a golf course, this resort has free wi-fi, numerous restaurants and bars, outdoor pools, gardens, a spa, and a room for events or meetings.
How to get there
Albufeira is less than an hour away from the airport in Faro.
Where to play golf
We have some good news for you. This resort is located right next to Salgados Golf Course. It's even within walking distance.
What to visit
Besides the breathtaking beaches Albufeira has to offer, you can also visit Zoomarine where you can see animals such as dolphins and exotic birds, which is perfect for a fun family day out. On a more tranquil day, you can pass by Albufeira's downtown and admire its historic architecture. During the night, check out the vibrant Portuguese nightlife in the famous Oura Street, also known as The Strip.
What to eat
Eat in one of the resort's many restaurants, or try the traditional gastronomy of the Algarve. Cataplana and Caldeirada are the specialties in the region, as well as every seafood dish.
Click HERE for more information.
Eurotel Altura
Located in Altura, right in front of Alagoa beach, Eurotel has a pool, a fitness centre, a tennis court, a spa, a casino and many activities for kids. You can't get bored in Eurotel Altura.
How to get there
The hotel is just 45 minutes away from Faro Airport.
Where to play golf
Eurotel Altura has many golf courses nearby, including some within 10 minutes such as Quinta da Ria and Monte Rei.
What to visit
Check out the great beaches nearby, visit the historic towns such as Castro Marim and Vila Real de Santo António, as well as the border between Portugal and Spain and the amazing views it offers.
What to eat
Altura has a strong presence of traditional Portuguese cuisine like every other small town in the region, so it's the perfect place for you to samplePortuguese food. Near the hotel there are several Portuguese traditional restaurants, like A Chaminé. All of these restaurants are specialists in regional wonders like Caldeirada and Cataplana.
Click HERE for more information.
Ozadi Tavira Hotel
Ozadi Tavira Hotel is located near the sea and it includes a fitness room, a pool, a spa, a bistro, a bar and has a terrace with amazing sea views.
How to get there
Tavira is just 40 minutes away from the Faro Airport.
Where to play golf
Benamor Golf Course is located 3km away from the hotel, and there's also Quinta da Ria Golf Course within 10 minutes.
What to visit
Tavira is a historic town, with Roman origins, so check out the Roman Tavira bridge on the amazing riverfront where you can enjoy a perfect view of the Gilão River. You should also visit the castle in Tavira, near the Roman bridge.
What to eat
The town has great food, such as seafood, Cataplana, Caldeirada and Arroz de Lingueirão. You can be certain of a unique culinary experience.
Click HERE for more information.
The Crest
This luxury complex is located in Almancil, in one of the most luxurious areas in the Algarve. It has a pool, a terrace, a bar, and it's divided into two parts: one part is a resort, the other is a collection of private houses.
How to get there
Almancil is just 15 minutes from Faro Airport.
Where to play golf
The nearest golf courses are the Vale do Lobo (7km), and the Quinta do Lago (9km), which are some of the most prestigious golf courses in Portugal.
What to visit
This resort is close to the MAR Shopping, one of the biggest shopping centres in the country. Also, pay a visit to the city of Loulé to check the castle and the rest of the historic part of the city. For sports fans, visit the Algarve Stadium near the hotel, which hosts some Portuguese national team matches, and drive a kart in Karting Almancil. To enjoy the sun, spend the day on some of the marvellous beaches in the area, such as Vale do Lobo beach or Loulé Velho beach. If you want to check the Portuguese nightlife, visit the bars in Vilamoura marina or Faro's downtown.
What to eat
Almancil has a multicultural collection of restaurants. From Italian food to Thai food, there is a lot to choose from. If you want Portuguese food, eat some Cataplanas, Caldeiradas or any other seafood in one of the many traditional Portuguese restaurants in the area.
Click HERE for more information.
Vila Monte
Vila Monte features eastern-themed accommodations, three swimming pools, and a luxurious spa. The beach is about a 10-minute drive from the property.
How to get there
Tavira is just 40 minutes away from Faro Airport.
Where to play golf
Benamor Golf Course is the nearest golf course in the area, around 20 minutes away by car.
What to visit
The oldest part of Tavira is rich in history and it deserves your attention. Besides the ancient history, Tavira also has many beaches that deserve a visit: Tavira Island is one of the most popular beach destinations in the Algarve.
What to eat
Tavira has a fantastic food scene and its specialties are seafood (especially octopus) and regional dishes like Cataplana or Caldeirada.
Click HERE for more information.
Laguna
Laguna is located in the luxurious area of Vilamoura, close to the beaches and the golf courses. It has 2 pools, a bar and it's a family-friendly resort, ideal for adults and kids, with plenty of entertainment for both.
How to get there
Vilamoura is 30 minutes away from Faro Airport.
Where to play golf
Vilamoura has plenty of golf courses. From Dom Pedro Millennium to Dom Pedro Pinhal, you'll have many different options available. There are also amazing golf courses in towns nearby, like Quinta do Lago.
What to visit
In Vilamoura, you should visit Vilamoura Marina and its nightlife, the Roman ruins and the nearby city of Albufeira.
What to eat
In Vilamoura, there are plenty of restaurants from different parts of the world, like Indian or Italian. For Portuguese food, check out some of the restaurants in the Marina and taste the Portuguese seafood dishes.
Click HERE for more information.
Prime Energize
Prime Energize is located in Monte Gordo, right next to the beach. This hotel has a restaurant with food served by Chakall, one of the most prestigious chefs in Portugal; a bar, a wellness center and a spa. Here you'll be able to simply relax.
How to get there
The hotel is 60km away from Faro Airport and has a train station just 2 km away.
Where to play golf
Near Monte Gordo, the main golf courses are Castro Marim, Monte Rei and Quinta do Vale.
What to visit
The main attraction in Monte Gordo is the beach, but the town is also located next to Vila Real de Santo António and Castro Marim, which have a lot of history, such as Castro Marim Castle. The towns also have a tremendous view of the Guadiana River and Spain's neighboring city of Ayamonte.
What to eat
Monte Gordo's specialty is Arroz de Lingueirão, but any other Portuguese seafood is recommended too because the town is home to some great restaurants such as Vicius and Muxama.
Click HERE for more information.
More Reads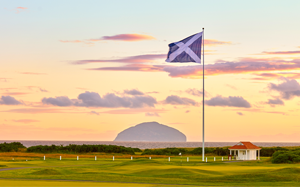 The bunkered Golf Course Guide - Scotland
Now, with bunkered, you can discover the golf courses Scotland has to offer. Trust us, you will not be disappointed.
Find Courses
Latest podcast
Rory McIlroy's resignation and making sense of the WHS