Sign up for our daily newsletter
Want latest news, reviews, analysis, deals, and events, and offers from our commercial partners? We've got you.
Tiger Woods has undergone subtalar fusion in New York City.
The 15-time major champion is facing another spell on the sidelines following the procedure to to address "post-traumatic arthritis" caused by his previous talar fracture.
That, of course, was sustained in a near-fatal car accident in February 2021.
Former world No.1 Woods was in visible pain during the recent Masters Tournament at Augusta National, from which he withdrew ahead of the final day's play.
But what is a subtalar fusion? And when can we expect to see the 47-year-old back in action?
Here's what we know…
What is a subtalar fusion?
The subtalar joint sits just below the ankle joint. Whereas the ankle joint only allows for up and down movement, the subtalar joint allows the foot to move in circulator rotations and side to side. This is what makes it possible to walk on uneven surfaces and is, clearly, important for the golf swing.
Over time, however, the subtalar joint can suffer wear and tear due to injury or arthritis. This is what's understood to have happened to Woods and what has forced him to undergo surgery,
According to Nuffield Health, subtalar fusion is a procedure that is normally performed under general anaesthetic and takes around 90 minutes.
"Your surgeon will make an incision (cut) on the outside of your ankle," reads the Nuffield blurb. "They will clean and clear any damaged joint surfaces and fix your joint together using one or two screws through the back of your heel. You will not feel the screw and it does not need to be removed."
A cast is applied to the ankle immediately after surgery and most patients will be kept in hospital for one or two nights.
What is the recovery time?
Patients are not allowed to put weight on their fused ankle for six to 12 weeks following surgery. Depending on the surgeon's assessment, weight-bearing may be restricted until the X-rays show healing, or weight may slowly be added throughout the period of recovery.
Although partial weight-bearing is often allowed within a few weeks after surgery, full weight-bearing in shoes usually takes at least eight to 12 weeks.
What are the risks and complications?
The biggest risk is the failure of the fusion to heal, which is called a nonunion. The procedure relies on the body growing new bone across the hindfoot joints. However, this occasionally doesn't happen and a scar tissue forms instead. In some instances, this can require the operation to be performed again.
Metalwork problems, joint malposition, thrombosis, foot joint pain, asymmetric gait effects, neuritis and tendon damage are some of the other risks of the procedure.
Will Tiger Woods be able to play again?
The multi-million dollar question. The statement posted on his Twitter account made no reference to returning to the tour, nor did it offer any timetable for recovery.
Woods, now 47, will likely miss the remaining three majors of the season at a minimum and, having undergone countless procedures in recent years, will this be one injury setback too many? Time will tell – but it's also the one thing Tiger has little left of at the top level of the game.
---
More Reads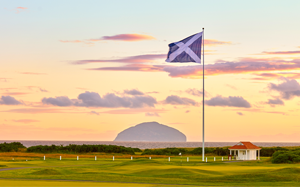 The bunkered Golf Course Guide - Scotland
Now, with bunkered, you can discover the golf courses Scotland has to offer. Trust us, you will not be disappointed.
Find Courses
Latest podcast
Rory McIlroy's resignation and making sense of the WHS