Sign up for our daily newsletter
Want latest news, reviews, analysis, deals, and events, and offers from our commercial partners? We've got you.
Watch the best putters on tour, and one thing stands out. Almost every single one will keep their elbows nice and close to their body throughout the stroke.
Compare that to the average amateur, and you'll see a big difference. This is the perfect drill to make sure your arms are staying connected to your body throughout your stroke.
• Control your irons better with Mav' McNealy
HOW TO DO IT
I call this the sweater drill, and it's going to help you keep your putting stroke nice and tidy. To do this, you want to get a sweater over your shoulders, and the sleeves tucked under your armpits, with your elbows squeezing the sleeves of the jumper into your body. You want to maintain that position as you move back and through.
THE PROBLEMS
If you do this drill and you find the sweater sleeves are hanging down between your ribs and elbows, like they are in the picture below, you're going to struggle to be consistent.
This causes a lot of disconnection, and the putterhead can fly about in your backswing and follow through.
Doing this drill will improve everything about your putting.
You're going to get more stability while you're hitting your putts, and that's going to improve strike, which will help distance control and starting line.
TAKE THIS HOME
This is one of my favourite drills as you can work on it at home, and you don't even need to hit any putts to get the feeling dialled in.
• Fix your driver slice with this elbow move
• Are you standing too far away from the ball?
Just throw the sweater over your shoulders and make some short swings back and through with the putter while keeping the sleeves of the sweater between your chest and arms.
Take that on the course and you'll putt so much better.
Ailsa Murphy is the PGA Professional at Peebles. You can follow her on TikTok, see her in person at Peebles Golf Club, or book a virtual lesson via Skillest. 
More Reads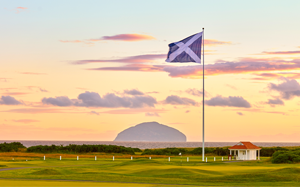 The bunkered Golf Course Guide - Scotland
Now, with bunkered, you can discover the golf courses Scotland has to offer. Trust us, you will not be disappointed.
Find Courses
Latest podcast
Rory McIlroy's resignation and making sense of the WHS