Sign up for our daily newsletter
Want latest news, reviews, analysis, deals, and events, and offers from our commercial partners? We've got you.
Justin Thomas has added his voice to the increasing dissent over the R&A and USGA's plans to roll back the golf ball at elite level.
Speaking ahead of this week's Valspar Championship, the two-time US PGA champion called plans to knock up to 15 yards off the ball from January 2026 "so bad" and contrary to the governing bodies' stated aim of growing the game. 
Asked for his reaction to the news, Thomas replied: "Disappointed and also not surprised, to be honest.  
"I think the USGA over the years has made some pretty selfish decisions. They definitely, in my mind, have done a lot of things that aren't for the betterment of the game, although they claim it.  
• Brandel Chamblee blasts rollback proposals
• Tiger responds to ex-girlfriend's lawsuit
"I had conversations with some USGA members and I don't understand how it's growing the game. For them to say in the same sentence that golf is in the best place it's ever been, 'Everything is great, but –' 
"I'm like, 'Well, there shouldn't be a but.' You're trying to create a solution for a problem that doesn't exist.  
"It's so bad for the game of golf." 
Thomas added that it disappoints him that he'll be made to play a different ball from amateur golfers. 
"For an everyday amateur golfer, it's unique that we are able to play the exact same equipment," he said. "I understand that I may have a different grind on a wedge, whatever you want to call it, but you can go to the pro shop and buy the same golf ball that I play or Scottie Scheffler plays or whatever.  
"But the USGA wants to bring it to a point where that's not the case.  
"I don't understand how that's better for the game of golf.  
• Rory laments distractions after PLAYERS MC
• Bryson brands rollback proposals "atrocious"
The amount of time and money these manufacturers have spent trying to create the best product possible and now you're going to tell them and us that we have to start over, potentially? For two of the four biggest events of the year we're going to have to use a different ball? Try to explain to me how that's better for the game of golf." 
Thomas went on: "They're basing it off the top 0.1% of all golfers. I don't know how many of y'all consistently play golf in here but I promise none of you have come in from the golf course and said, you know, I'm hitting it so far and straight today that golf's just not even fun anymore. Like, no. That's just not reality. 
"It irritates me because it's consistent with, I feel like, decisions and things that the USGA has done in the past when it comes to rules or whatnot and data. I mean, people are running faster, so, what, are they just going to make the length of a mile longer so that the fastest mile time doesn't change, or are they going to put the NBA hoop at 13 feet because people can jump higher now?  
"It's evolution. We're athletes now. We're training to hit the ball further and faster and if you can do it, good for you. As you can tell, I'm clearly against it." 
---
More Reads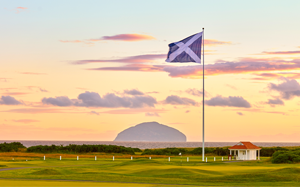 The bunkered Golf Course Guide - Scotland
Now, with bunkered, you can discover the golf courses Scotland has to offer. Trust us, you will not be disappointed.
Find Courses
Latest podcast
Rory McIlroy's resignation and making sense of the WHS